Find out what's involved when starting your own HVAC business
Discover the startup costs, licensing and bond requirements
Pick up some marketing tips for starting your HVAC business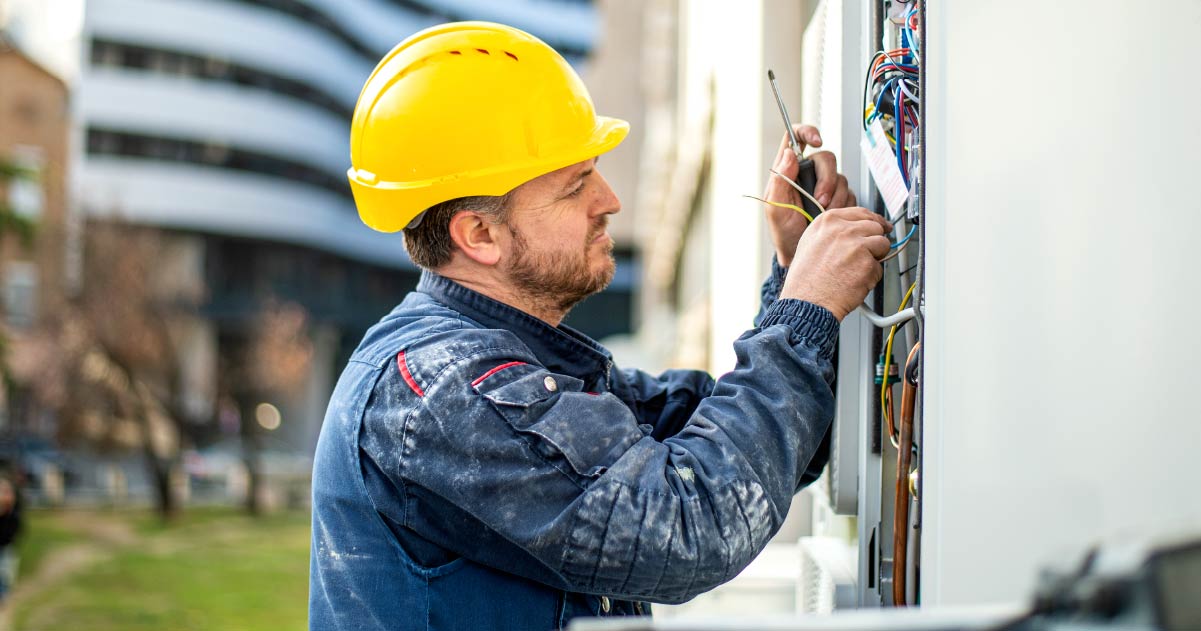 So you've got big dreams of starting your own heating, ventilation and air conditioning business (HVAC). Getting started is a little like a jigsaw puzzle; you need to get the edge pieces down first as a foundation so you can start filling in the blanks and building the rest of your empire. Here, I'll talk you through how to start a successful HVAC business.
HVAC Business Startup Costs
Phyxter, a smart home services company, reported that approximately 20% of HVAC businesses fail yearly across the US. In addition, 70% of new HVAC business owners are not successful in their first year of operation, leading to an unfortunate loss of revenue. While failure is a part of business, it's also one of the reasons it's important to have a realistic understanding of the costs involved with starting a HVAC business. Startup costs can vary depending on the size of your business. They typically range from between $2,000 USD to $10,000 USD if you already own your equipment and materials. However, if you're purchasing a lot of equipment upfront, then it could easily amount closer to the $100,000 USD mark. Aside from equipment and materials, also consider things such as insurance, licensing requirements and marketing and transportation needs–such as vans–to move heavy equipment to site and the costs associated with each.
10 Steps to Build a Successful HVAC Business
Develop a HVAC business plan
Decide what HVAC services to offer
Get all of the business licenses required
Understand insurance and bond requirements
Get your finances in order
Create a pricing strategy
Invest in equipment
Hire the right people
Establish your brand
Market your business
It's not just the costs you need to think about before starting your own HVAC business. There are plenty of other details you need to consider along with your business structure, so you can do your best to avoid any unexpected surprises during the setup period. These include creating a business plan, deciding what services to offer, setting up licensing and creating a pricing strategy.
"That's one of the great things about starting your own HVAC business– the ball is in your court and you can adapt the business structure as necessary."
1. Develop an HVAC business plan
It's always better to over-prepare rather than under-prepare, so think of your business plan as a blueprint. You'll need to create a solid business plan that addresses how you're going to run your business; how you're going to allocate resources, staff and equipment; and how you're going to ensure that you put your best foot forward ready for success. A good place to start with your business plan is to set targets and goals in line with the popular business formula: SMART.
Specific, Measurable, Achievable, Realistic and Time based goals. Keep these five core points in mind when thinking about your vision for the business. They will help you maintain and reach your strategic goals.
In addition to working SMART, also consider which kind of services you want to offer, business opening hours, how many staff you want to employ, and the tools and equipment you'll need to carry out specific tasks. This falls in line with your business structure.
2. Decide what services to offer
You've probably been in the position of looking for a specific service, whether you need a dental treatment, or your washing machine has spun its last load. I'm willing to bet you do a quick Google search to see who's local in your area and if they offer the services you require, right? Giving potential customers a clear outline of what you offer when they first encounter your business helps generate new business and maintain that steady cash flow, so be sure of the services you want to provide from the start.
It's a good idea to check what other local businesses in the area are offering so you can try and stand out from the crowd. HVAC companies tend to offer a selection of the following:
Cleaning and repairs
Replacement and installation
Site inspection
Post installation support
Perhaps you want to specialize in a specific maintenance job within the HVAC industry and list that on your site. Once you've decided on your key services, keep in mind that you can continue to build around those as time goes on. That's one of the great things about starting an HVAC business– the ball is in your court and you can adapt the business structure as necessary.
3. Get all of the licenses needed
There are a whole host of reasons as to why you need certain licenses for specific jobs and services. The type of licenses required will depend on the region or country you live in as many have different regulations. When conducting research into license particulars, look out for things such as business and liability licensing, as well as licensing for your HVAC technicians. You may also need to register your business with the government. When in doubt, visit your government's website and look for information on registering a new business.
4. Understand insurance and bond requirements
Starting an HVAC business is expensive. First you need to set up your tools and equipment. Given the nature of the work that's being carried out, it's no surprise that this is a costly exercise. You will also want to come to grips with the relevant insurance and bond requirements so you can ensure that you're protecting both yourself and your customers from financial loss. Insurance aims to cover you and your business from financial loss in the event of property damage and injuries to individuals. While shopping for coverage, think about your employees and whether the options will pay for medical care if they have an accident while at work.
In addition to insurance, there are HVAC contractor bonds which work as an unspoken agreement between customer and contractor. In order to operate the equipment and machinery that comes with owning an HVAC business you must have the right license. The step before getting that license is getting a contractor bond. It's a document you keep that provides assurance from your business to the customer that the work you're carrying out will be done to the best of your ability and to industry standards, ensuring guidelines and regulations are followed. Once you've acquired the bond you can then proceed with getting any licenses required for your tools and equipment.
5. Get your finances in order
Your finances and how you set yourself up within the business world may be the difference between success and failure. Therefore, it's vital that you have the financial standing behind you to sustain a profitable HVAC business while you're generating revenue and building up your client base. Whether that be through personal assets and savings, help from family and friends, or a loan.
Your start-up costs will fluctuate depending on your personal circumstances. For example, there may be certain tools and equipment you already have access to as well as vehicles to transport everything. Or, you may need to buy everything. You want to avoid being under-prepared, so do your homework on the finances you'll need to secure before starting.
6. Create a pricing strategy
You've got your HVAC business plan, you've sorted out your licensing, the HVAC services you're going to offer and you've established a solid financial footing. What's next? Generating revenue.
When it comes down to pricing for services your HVAC business will offer, many variables will affect your outcomes including fixed costs, labor costs and competitor rates which is another reason why it's good to suss out what your competition is charging. There's also a huge element of trial and error as you may not get pricing correct in terms of generating-a profit straight out the gate. However, if you've got a good financial head on your shoulders, you may find this process easier than most, as a lot of it will come down to analyzing data around your finances. Some common costs to look out for include:
Fixed costs. These occur regularly without fail and include rental costs, phone bill, insurance and loan repayments.
Competitor rates. What is your competition charging in the local area? Have a quick search around the Internet, or when you're out and about, keep your eyes peeled for competitors in the area who might share pricing on billboards or on TV. Doing a quick market analysis to understand what your competitors charge for services will help you remain competitive and provide insight into how you should bid jobs.
Customer acquisition cost. You can get to this figure by dividing your marketing costs by the number of new customers you attract.
Remember, what works for John Smith down the road, who owns a heating and plumbing business, may not work for you. That's why it's important to regularly monitor your finances and understand where your numbers are coming from. It's a constant learning process but one that you can develop and change along the way.
Want to learn how to price jobs competitively?
Don't run the risk of under-estimating.
Read Now
7. Invest in equipment
Think about when you're shopping around for a new electric toothbrush or anything that serves a daily purpose. You'll likely purchase something with a long shelf life. The last thing you want is to be stuck charging your new toothbrush every day due to poor battery life.
The same goes for your HVAC business. Your employees will be using vans and equipment daily, so invest in good quality tools to avoid any unexpected replacements. You'll never be able to avoid all aspects of this happening, but you want to put yourself in a good position to minimize the risk.
8. Hire the right people
Did you know that 73% of people submitting a job application say they would only apply to a company that shares similar values to theirs? It's not only important to hire the right people for your business but to also ensure the people you hire feel a sense of belonging. The working relationship is a partnership. The fit needs to be right for both parties. Ideally, you want to create a company culture you're proud of and one that helps your employees work to the best of their abilities.
On the flip side, your employees want to feel valued, respected and enjoy the work; after all you spend around one-third of your life working. But, if you can find the balance of hiring the right employees, taking into account unique skill sets for the roles and morals or attributes that align with your business, then you'll be able to build a company culture and work ethos that you can be proud of. You'll also retain a high number of staff, with a low turnover rate.
9. Establish your brand
Now that you've covered the essential, but not always exciting, pieces of starting an HVAC business, it's time to tap into your creative side and establish your brand.
Your brand is a combination of things like your business name, logo, website, colors, uniforms, the customer service you provide and even how you talk and interact with customers online and in person at the job site.
When choosing a name for your business, brainstorm ideas and tell potential customers exactly what you do. You can also add part of your family name to the business name if you'd like. Anything you can add to your name to personalize your business a little is a great way to differentiate and help you stand out from the competition.
Then, you'll need to set up a website. There are free tools out there like Wix, WordPress, Weebly and more which you can use to set up a website on your own. Or you can hire an individual or work with a marketing company to develop a website for you. At a minimum, your website should list your basic contact information, some information about the service calls you offer and a way for people to contact you if they're interested in hiring you.
10. Market your business
Get ready to show off your brand and get your HVAC business in front of potential customers. Creating a marketing strategy for your business is vital to your success. It helps you build brand awareness, win new business and generate revenue through new sales.
At a basic level, your website will serve as an important marketing tool. It will help you show up online when potential customers search for an HVAC business nearby. Plus, you can ask happy customers to leave online reviews and share their experience with your business with others, so that potential customers might flock to your business simply through positive word of mouth.
But there's much more to marketing than your website and online reviews. You will want to include social media, digital marketing and even business cards. The marketing world is big, and it can be daunting to decide where to start, especially when you don't have much time. Luckily, we have a blog on tips to find time for marketing your HVAC business–so be sure to check it out for an in-depth guide.
Let's Get Started!
As you can see, there's a lot to consider and organize when thinking about starting your own HVAC business. But with the right mix of determination, tenacity and drive you can build a profitable business with a solid HVAC business plan. If you're looking for further resources, you can also check out our blog listing the top informational resources for HVAC contractors.