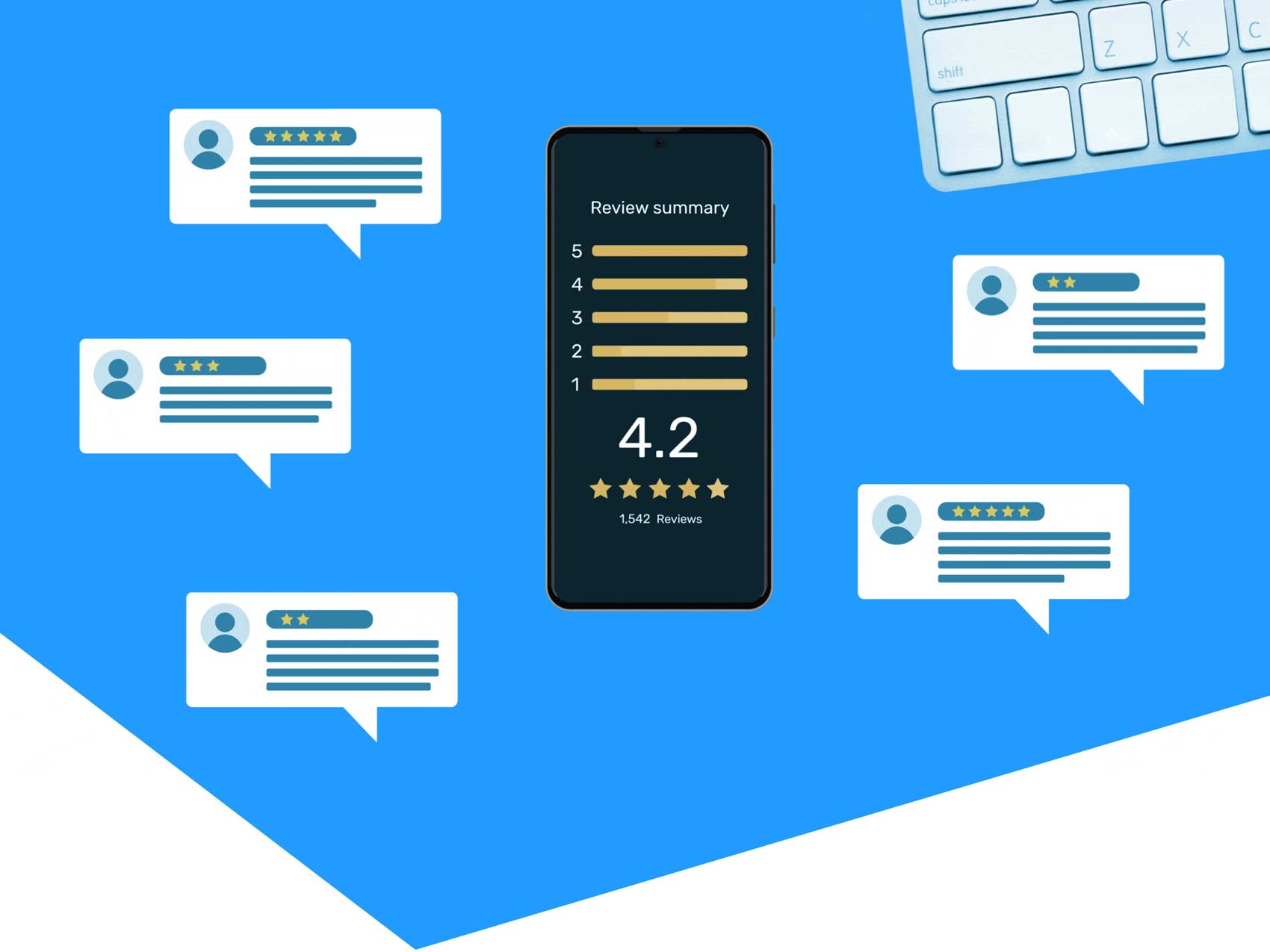 Think about the last time you were trying to decide where to go out to dinner with friends, or where to find a spot to get a haircut. How did you find that restaurant or barber, and why did you choose them?
There's a good chance that you used a search engine like Google or Bing to find the business or service. There's an even better chance that you looked at online reviews of that business to influence your decision (and in doing so, also avoided a night spent on the toilet or crying over the dreaded bad haircut hat).
Increasing your online reviews and focusing on how you show up on review sites is one of the best ways to ensure customer satisfaction and market your trade business to potential new customers - even if you have limited marketing resources.
So how can you make sure that online reviews represent your business in a positive light, help you market to potential customers and win new business so you can grow?
The Basics of How to Get Good Reviews
Let's dive deeper into the impact of review sites and online reviews on your overall business success.
Why are customer reviews important for your field service company?
The top business types for which reviews play an "important" or "very important" part in consumers' decisions [include] service businesses and tradespersons (84% said reviews are "important" or "very important" in their decision)
Research compiled by G2 shows "about 95% of customers read reviews before making a purchase."
Plus, additional research finds "almost half (47%) of all Internet users worldwide say they post reviews about a product, company, or service each month."
That means customers are even more likely than you might think to both seek out trade business reviews online and share their good (or bad) experiences with your trade business online too.
And more importantly, apart from things like your website and social media accounts, online reviews are often the first impression people get of your business and can make or break whether someone hires you.
Therefore, online reviews can even impact your overall revenue.
For example, Harvard Business Review found that "for every one-star increase that a business gets on Yelp, they see a 5-9% increase in revenue."
And Findstack found that "businesses with a minimum of 200 reviews generate twice as much revenue."
With that much potential to grow your business simply through online reviews, how do you know which review sites you should focus on?
Where To Get Reviews For Your Field Service Business
Most review sites allow you to claim your business and create a profile for it on the respective site. Customers can visit your profile and leave a review on their own, simply by navigating to your profile. But you can also direct customers to your profile to leave a review through a variety of marketing tactics (we'll get to those in a minute).
Claiming your business also allows you to comment on reviews. This is crucial so that you can respond to reviews in order to build trust and credibility, better manage your reputation and most importantly stand out from your competition.
Anyone who navigates to your profile on a given online review site can leave a review. So it's important to take any reviews you get with a grain of salt and do your due diligence to make sure a reviewer really hired you before making any decisions about responding.
In other words - don't let the fake reviews get you down if you never even worked with the reviewer!
1. Google business trade reviews
If you can only focus on one review site as you build up your trade business reviews, let it be Google. Why? Research shows that "72% of customers say they use Google reviews to find businesses." To do this, you'll need to set up a business profile through Google so you can claim your business listing.
By claiming your business on Google, you ensure that your business shows up in local search results. This is vital if you want to reach customers within a certain neighborhood, town, or region in or near where you operate.
So how does it work?
Say you have a plumbing business, for example. Your potential customers might Google terms like "plumber near me", "plumbing business near me," or "best plumber in___." Claiming your business on Google will allow your business to appear in its own section aside from the search results for those terms, which also displays your star rating based on-you guessed it-your reviews.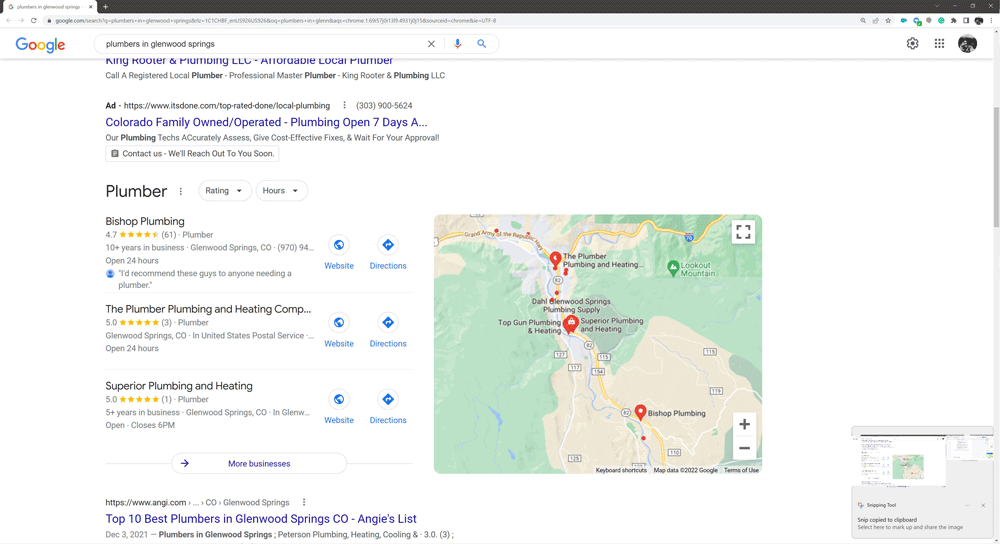 Once you've claimed your business, you can add all your basic information to your profile like your address, hours of operation, website, links to schedule an appointment for service and more.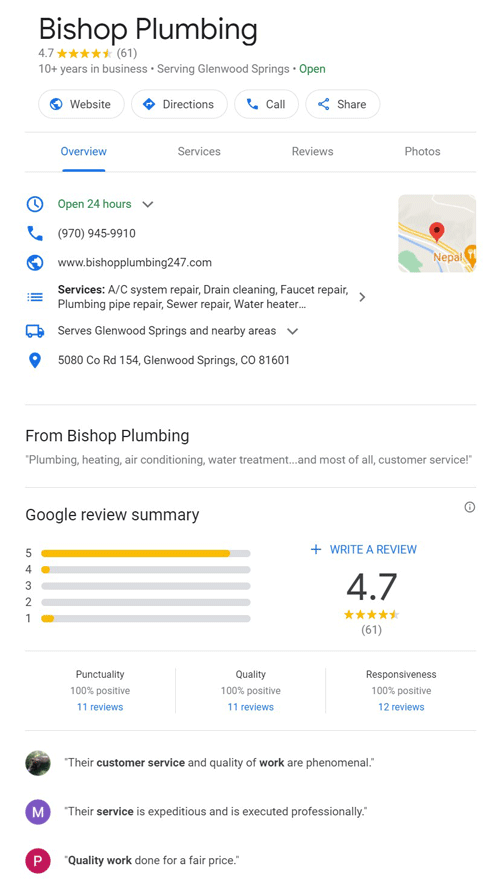 Anyone can leave your business a public review with a star rating as long as they sign in to a Google account.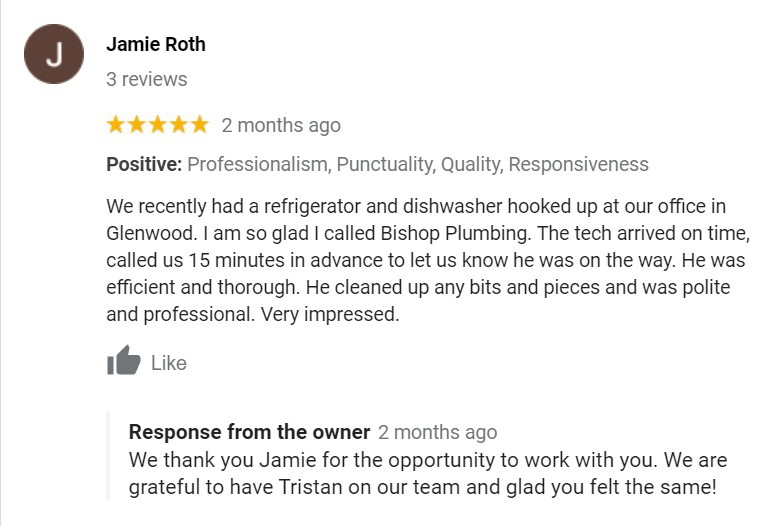 You'll notice that the company, in this case, publicly responded, thanking the customer who left a positive review.
Google allows you to respond publicly to positive reviews and negative reviews, too.
Your trade business reviews on Google also play a major part in the ability of your website to show up higher on the overall results page when someone searches for a term related to your business.
In fact, studies show that "review signals account for about 15% of Google local rankings."
Additionally, when displaying search results, the algorithms (which decide the order in which you see results after searching a given term) "consider review quantity, diversity, velocity and quality."
Here's what that looks like in action.
People searching for the plumbing terms we previously mentioned might also search terms such as "plumbing repair," "where can I buy plumbing parts," or "how to fix a plumbing leak." The more reviews you have, the better chance your business website will appear at the top of the search results page (after ads) for those terms.
Keep in mind that starting a blog for your business and writing about topics that your potential customers might search for is also one of the best ways to get your website to show up higher on the search results page.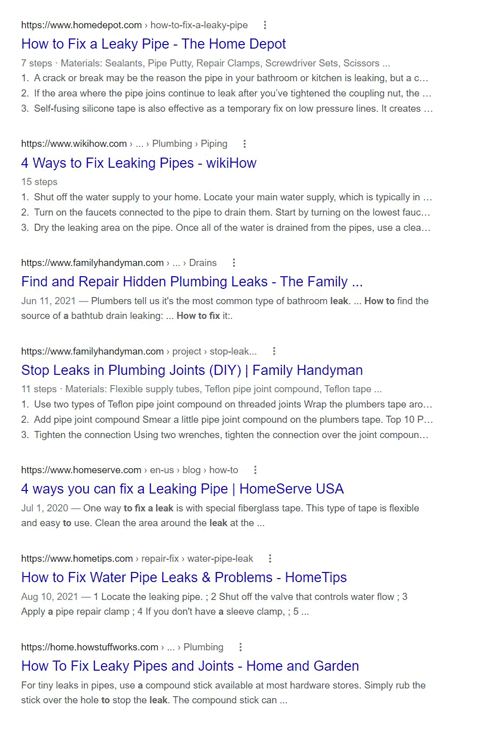 The higher your website appears on the search results page for terms related to your business, the more likely potential customers are to find you and navigate to your site. And that brings them one step closer to hiring you for help!
2. Trade Yelp business reviews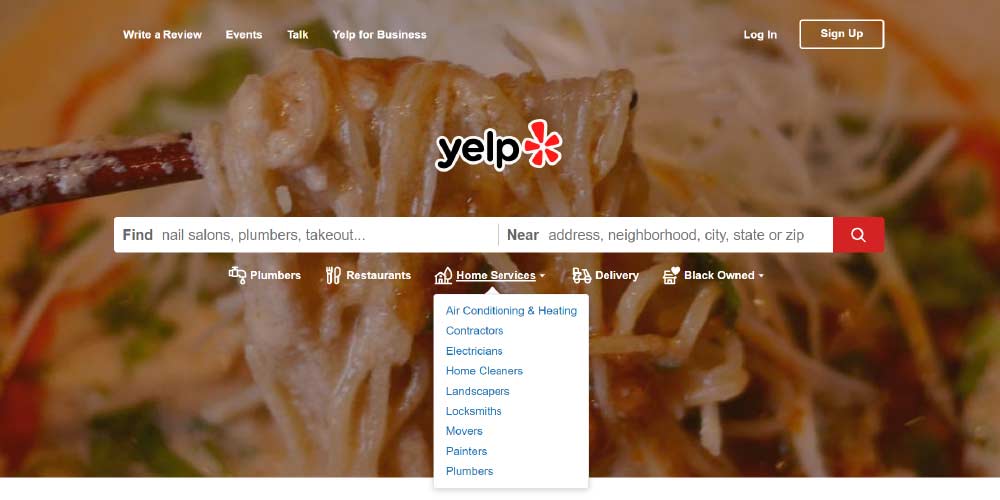 You may have used Yelp before to read reviews for things like restaurants, doctors, or dentists in your area. But did you know that Yelp also includes listings and reviews specifically for home services?
And since research shows that "45% of customers are likely to check Yelp reviews before visiting a business" in the first place, claiming your business on Yelp is crucial if you want to win new customers from positive reviews outside of Google.
Once you claim your business on Yelp, you can add important information about your office location, services offered and business hours. You can also add pictures to your profile.
Do you have an awesome fleet of vans? A great group photo of all your field technicians or a cool shot of your team working in the field? Add these photos to your profile to give potential customers real-life insight into who they will actually work with if they hire you.
Yelp also allows you to respond either publicly or privately to customer reviews.
For example, if you receive a negative review that warrants a more thorough response, you can choose to respond to the person who left the review privately.
On the other hand, in the unfortunate (but common) circumstance that a reviewer cites untrue information in their review, the ability to publicly respond and correct any false information can be your best shot at setting the record straight on how the interaction with that particular customer went.
3. Social media trade business reviews
Potential customers will also look for your business on social media sites like Facebook. You can create a business profile and add your basic information (the same as Yelp and Google), plus videos and photos.
Anyone who visits your page or profile can leave online reviews and rate your business on a scale of one to five stars. You can respond to negative reviews and positive reviews simply by commenting on the review through your business profile.
How To Ask Field Service Customers For Reviews
Now that you have a good idea of which online review sites are best, here are a few simple tips for how to get more reviews from customers:
1. Offer an incentive
Enter customers into a drawing for a gift card or offer them a special discount on future services when they leave a review.
2. Ask for feedback
Ask customers to give you honest feedback about how their experience with your business went, from the initial quote to the final invoice. Invite them to share negative feedback too, and explain that their feedback helps you solve problems and deliver better customer service long term.
3. Explain the value of their opinion
Being open to both positive and negative feedback helps establish trust with customers. It demonstrates that you are accountable for your mistakes and will make good on promises to improve.
Practical Tips For Gathering Reviews
You can ask customers for reviews through email, phone calls, or by asking them face-to-face. But this can be time-consuming, and it can be easy for your staff to mix up details of the review or forget to ask all together if they are busy with other tasks during their day.
Automatically gather reviews with job management software
Job management software helps you centralize all of your customer and job information in one spot so that you can easily monitor job progress and easily read notes from your staff about daily customer interactions.This helps you get real-time insight into customers' issues and helps you correct them faster.
Some job management software can even help you automate asking customers for reviews. Simpro, for example, integrates with a review site called Podium.
The Podium integration allows Simpro users to automatically send text messages to customers requesting a review when a job is completed and allows businesses to communicate with customers via text all the way through a job or project from start to finish.
You can get more information on the integration here.
Here are some more practical tips for gathering online reviews.
Identifying the right moment to ask for a review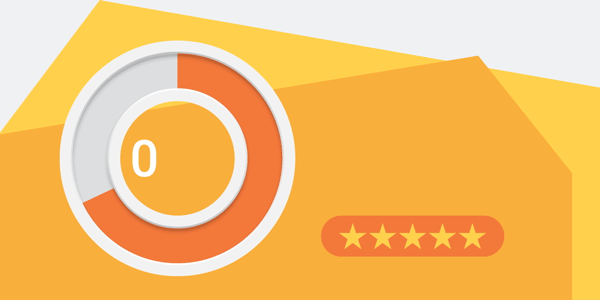 Source: brightlocal
Customers are more likely to leave online reviews if you simply ask them. The best time to ask customers for a review is immediately after you complete a particular job or service for them. The more time between a customer's interaction with you and when they're asked to leave a review, the less likely they will be to leave one.
Make it easy and fast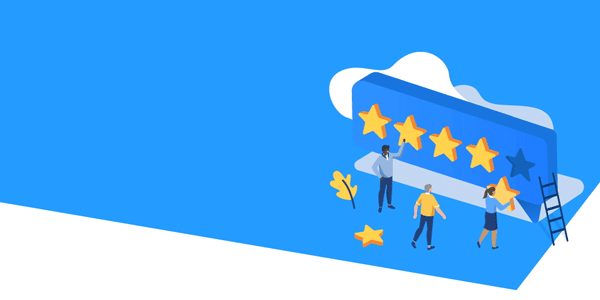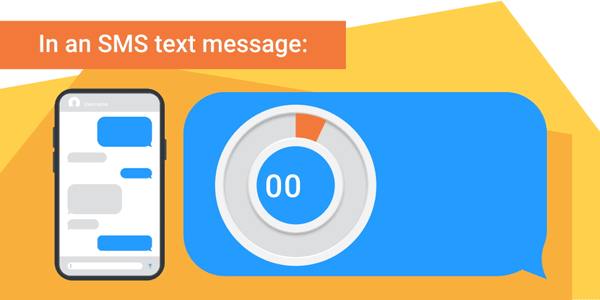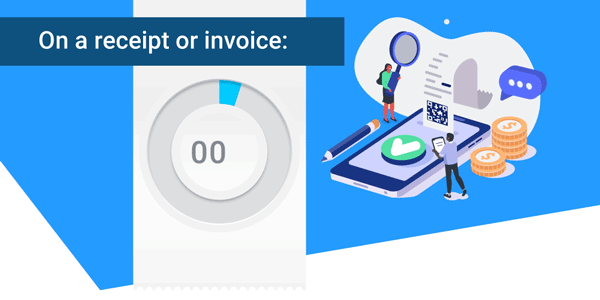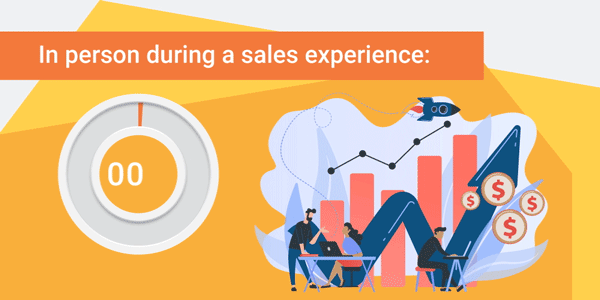 Source: brightlocal
Send a text message, email or other online message or notification to customers requesting a review after you complete a job. This is one of the easiest ways to automate gathering online reviews and save time. Add links to your profiles on review sites to the bottom of final invoices or receipts so that a customer can simply click the link to complete a review in minutes.
Make the most of customer happiness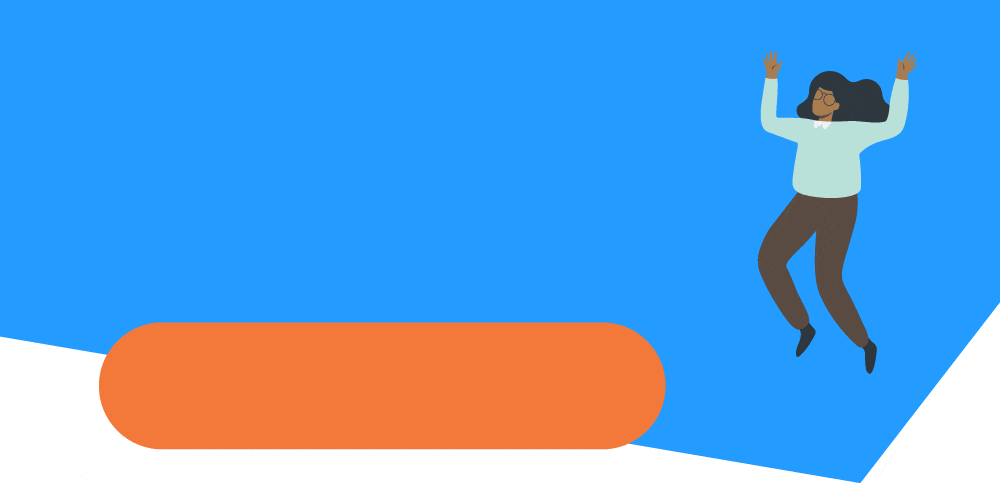 Source: Podium
Customers are most likely to leave a review when they are happiest about the services they've received. If customers go out of their way to mention any positive interactions with your staff or great experiences with your level of service during any portion of a job or project, ask them for a review the minute they give you positive feedback.
Respond to all customer reviews
Stat: When a business replies to at least 25% of their online customer reviews, on average, they earn 35% more revenue.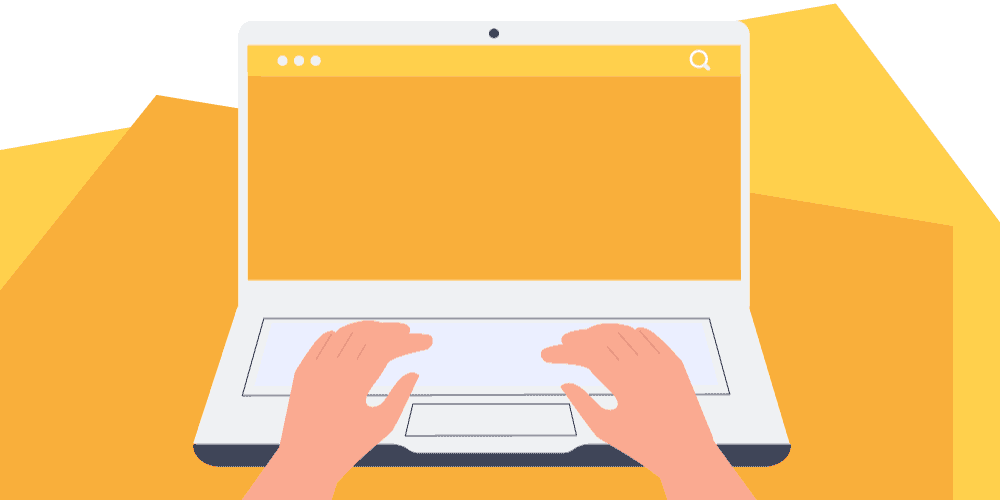 Source: Womply
Responding to online reviews shows customers that you genuinely care about them and their experience with your staff. It also shows customers that you appreciate their business.
Thank all of the reviewers
Source: Podium
The easiest way to show customers that you appreciate their review? Simply say thank you! You can add your thanks to your response to their review to show potential customers that you are grateful and approachable.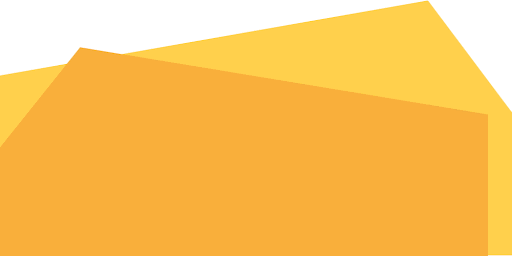 How To Handle Bad Reviews
Research shows that "more than half of customers expect businesses to respond to their negative reviews within a week," and "as many as 45% of consumers are more likely to support businesses if they see that they've responded to negative reviews."
Responding to negative reviews shows customers that you are open to feedback and that your business takes accountability for its actions. This helps build trust and credibility with current and potential customers and shows that you care about customer service well beyond the end of a job.
Think about the last time someone had to apologize to you. What made you feel like they truly meant their apology? What made you feel like they were simply saying sorry just because they had to?
Use your own experiences here as a guide when responding to negative reviews and respond in a way that you would want to receive as the customer on the other end.
Then follow these three steps:
1. Acknowledge their point of view
You certainly don't have to agree with a negative reviewer's opinion, but it's important to show them that you hear their concern. This can be as simple as restating their concern in your reply to negative reviews.
2. Answer thoughtfully and quickly
A good response is short, simple and straight to the point. A response that is too long can sound defensive.
3. Take responsibility
Acknowledge that you are sorry that the reviewer is frustrated and had a bad experience. If you truly did something wrong to cause the negative review, be honest and transparent about the mistake and how you plan to solve it.
On the other hand, if you truly did nothing wrong or the negative review is untruthful, keep it simple and let the customer know you are sorry to hear about their experience. Then invite them to discuss it more with you by directly contacting you via phone.
Finish your response by ensuring that any issues outlined in their reply are solved and won't occur again.
The more reviews you can gather for your trade business, the better opportunity you have to win new business, boost search engine rankings and build trust with anyone who looks for you online. And with these tips in hand, you'll be on your way to Internet fame (only the good kind) in no time.
Want to learn more about boosting your online presence to win new customers? Sign up to get our guide to all things marketing for your field service business here.