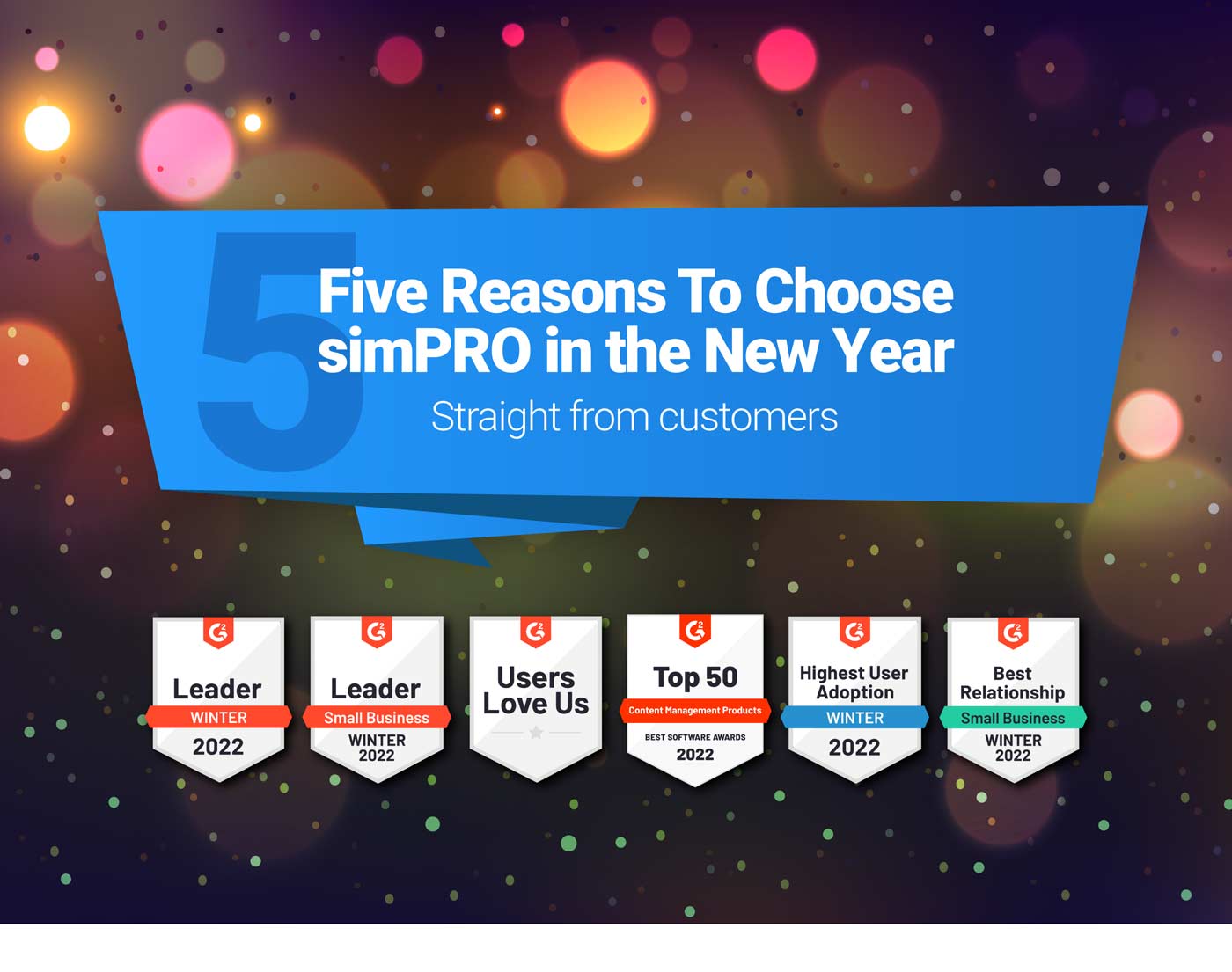 New year - new you; we've all heard the saying before. Although it may be an overused phrase (a phrase you might even find annoying), there is value in seeing the beginning of a new year as a fresh start. But don't leave out your business...it can use a fresh start too with new goals and new technology to help you reach those goals. . Whether that includes improving cash flow, taking on larger projects, or scaling your business, it is essential to have a field service management tool that can support your business' "new you".
Simpro is honored to be named a Leader in Field Service Management in the G2 Winter 2022 Grid® Report. Find out how we are able to help you achieve all your business goals in 2022, straight from our customers.
What is the G2 Winter 2022 Grid® Report?
G2 is the world's largest tech marketplace, featuring reports that showcase companies with the most satisfied customers and largest presence in the market. These reports are utilized to help customers choose the right solutions for their needs, and provide an overview of trends in the categories that they are interested in.
Five Reasons To Choose Simpro in the New Year

Tell me more.
Manage all operations from one solution
Your field service business has lots of moving parts. From managing assets to scheduling and dispatching field staff, managing your workflows efficiently is the key to keeping customers happy and growing your business. So how do you keep track of it all? With an end-to-end field service management solution.
Experience exceptional customer support
Bringing new technology like field service management software on board can be challenging without good training and support to help you get the most out of your investment. Simpro's dedicated implementation and support teams make the transition to new software smoother for your whole team.
Save time
Let's be honest...we could all use more time. One of the simplest ways to save time is to eliminate inefficiencies in your overall business operations by replacing tedious manual processes with field service management software instead.
Run better reporting
Hands up if you spend more time trying to sort through your data than actually making decisions with it?! Stop using pen and paper to measure business success. Field service businesses like yours have found better ways to measure, analyze, and act on their business performance data with Simpro reporting capabilities.
Support your growing business
Growing and scaling your business is always top of mind. A cloud-based field service software is essential to set your business up for success now, and in the future.
Interested in starting 2022 off with a bang? Sign up for Simpro today!