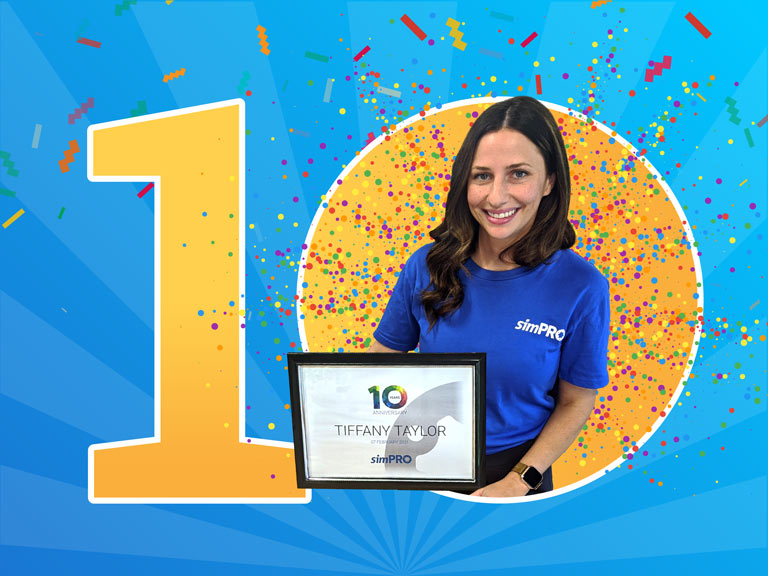 Ten years ago, Tiffany Taylor joined Simpro as part of the reception team. Since her first day, she has been an integral part of Simpro, working in various roles for the company. Today, she brings her joyful energy and dedication to her current role as Process Coordinator.
We caught up with Tiffany to chat about her Simpro journey and some of the past decade's most memorable moments.
Your job title is Process Coordinator; what is your day-to-day like at Simpro?
"My day-to-day typically involves building and working on internal system automations to improve internal processes, mainly for the operational parts of the business.
"This also involves understanding, refining and documenting all internal processes and procedures, as well as building and maintaining the online learning programs used for training for our employees."
Tell us about your journey with Simpro
"I've had a fantastic journey at Simpro.
"I started out on reception, worked hard and progressed into multiple roles over the years. I worked as Training Coordinator for Australia, ANZ Administration Team Leader and now, Process Coordinator where I support our staff globally."
Do you have a favorite story from your decade with Simpro?
"I have been lucky enough to travel to some of our offices around the world.
"In 2016, I spent six weeks in the UK working with, and training, our awesome UK team.
"A fews weeks in, I realized that when the British say, 'Are you alright Tiff?' it's actually just a general greeting more than a question of concern... Let's just say I spent a few weeks wondering if I looked unwell!"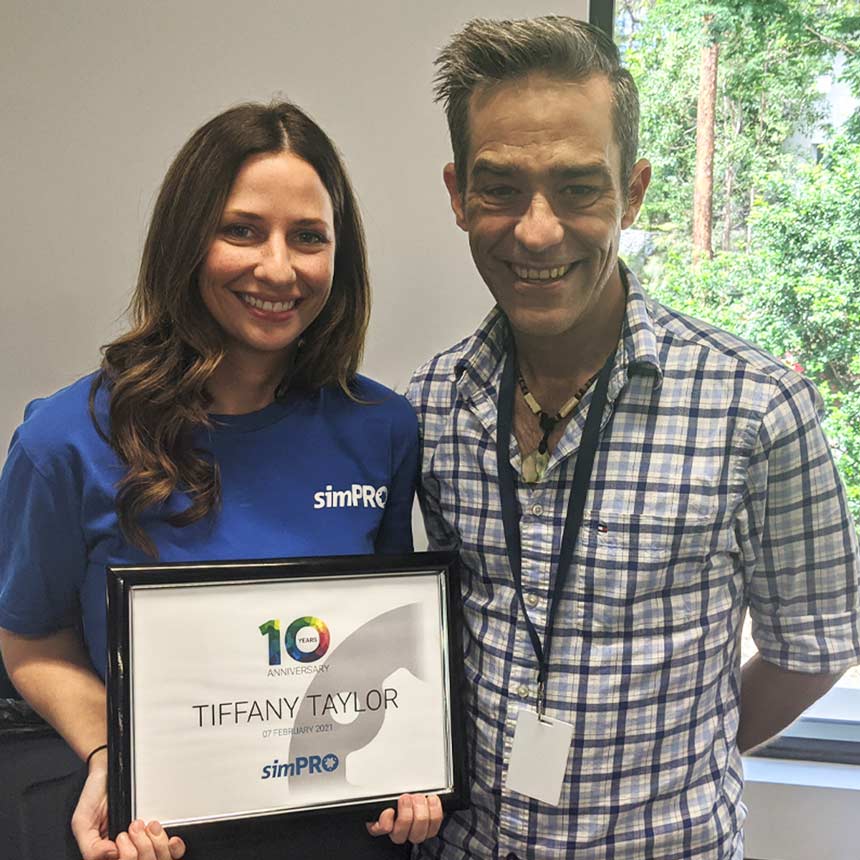 What is one thing that has changed the most during your time here?
"The people.
"Simpro has seen some top quality and talented staff come on board over the years, which has been fantastic, not only improving our services but also our culture."
What is the best 'work perk' at Simpro?
"I do love my food and recently we've been rewarded with daily lunch catering here in the Australian office. So this foodie is absolutely stoked with that!"
Ten years is a significant milestone. How do you feel about reaching this anniversary?
"I feel fortunate and proud to have reached my ten years and still loving it.
"I've always felt valued and respected at Simpro, and there are so many good souls I've met along the way."
What piece of advice has helped you the most over your 10 years?
"To handle yourself, use your head; to handle others, use your heart. - Eleanor Roosevelt
"This mantra has served me well, especially in roles of leadership.
"It can be interpreted in many ways but to me it's how I remind myself to use my head and focus on solutions when tackling challenges, rather than letting my emotions and ego take rein.
"On the flip side using my heart to handle others means showing others empathy and truly listening to their feedback, because we cannot truly see people if we cannot hear them."
Interested in furthering your career with Simpro? Visit our careers page for available opportunities.