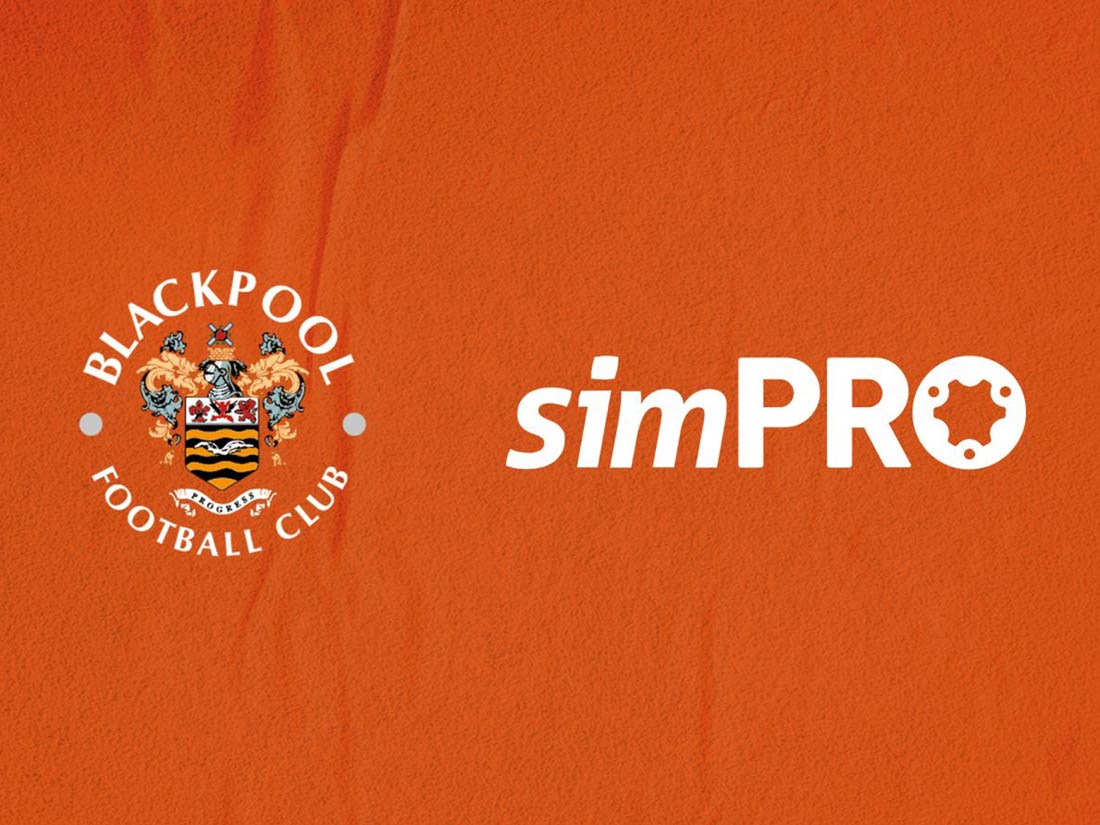 Simpro, a leader in software-as-a-service (SaaS) solutions for the trades industry based in Brisbane, Australia, announced that it is an official short sponsor for Blackpool Football Club (FC) based in Blackpool, Lancashire, England.
The two organisations came together after Simpro co-founder and Blackpool FC fan Stephen Bradshaw met Martin Booker, Blackpool FC commercial manager, during the early days of Simpro.
Bradshaw explained, "I am thrilled at the opportunity to partner with Blackpool Football Club. I have strong ties to this team. I was born in Blackpool and have been a lifelong, passionate football fan since the 1970s when I attended my first game. I also watched Kenny Dougall begin his career in Brisbane, where I founded Simpro, with the National Premier League. I am proud to align my Brisbane-based company with my hometown team to show support for Kenny and the rest of the players."
Booker added, "We are delighted to bring in a new sponsor to the club with international recognition. Stephen is a big Blackpool fan now based in Australia. I met Stephen just a few months into new ownership as he attended a home game in a box that season. We have kept in touch since and on the eve of the new season we spoke about how he would like to get involved with the club as a sponsor.
It's developed quickly from there and we are now excited to work together on this new venture for the 2022/23 season and beyond. Simpro will benefit from the high-profile kit exposure that the championship brings. We look forward to developing a productive and successful partnership."
About Blackpool Football Club
Blackpool Football Club was founded in 1887 by former students of St John's School. Two years later, the other football club in town, South Shore Football Club (FC) merged into Blackpool.
In the 1950s, Blackpool FC had four top-six finishes in the First Division, with their best position being runners-up to Manchester United in 1955–56. In 1956, outside-right player Stanley Matthews was the inaugural recipient of the Ballon d'Or, and is regarded as one of the greatest players of British football.
Blackpool Football Club also won the 2001 Third Division play-offs, 2004 Football League Trophy Final, 2007 League One play-offs and the 2010 Championship play-offs. The club recently finished third in League One and won promotion to the EFL championship via the playoffs in the 2020-21 season.
Bloomfield Road in Blackpool, Lancashire, England, has been the home stadium for Blackpool FC since 1901.
About Simpro
Simpro is a global software company providing world-class field service management software solutions to trade and specialty contracting industries. With over 200,000 users in Australia, New Zealand, the United States, Canada, the United Kingdom and Ireland, our verticals broadly include security professionals, plumbers, electricians, HVAC, solar and data networking.
Led by CEO Sean Diljore and headquartered in Brisbane, Australia, Simpro's cloud-based software streamlines field service workflows to increase efficiency, improve cash flow and enable business growth. Simpro has more than 7,000 clients and 480+ employees over five global offices.