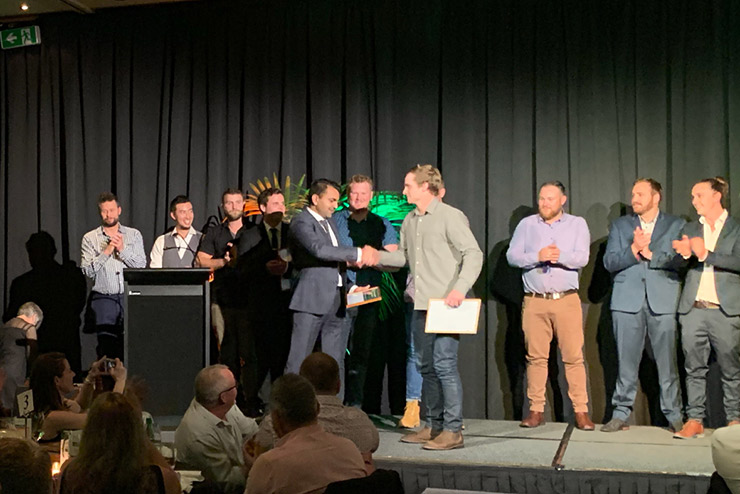 Simpro plumbers aren't the only ones taking home some of the top prizes in their industry. Last week it was our New Zealand landscaping customers whose hard work came to light at the 2019 Registered Master Landscapers, Landscapers of Distinction Awards!
Trading soil and shovels for suits and heels, the landscaping men and women of New Zealand celebrated their achievements and successes at the 2019 RML Awards late last week.
Filled with bubbles, good food and even better company, Ricky and Shafraz from our Simpro New Zealand team had a great time - with Ricky proudly presenting the Young Landscaper of the Year Award.
When it came to prizes, new Simpro user Natural Habitat Ltd went above and beyond, being declared the Supreme winner of the evening, with Gold Medals awarded for:
Landscape Design,
Landscape Construction,
Landscape Horticulture, and
Garden Management.
The team also took home the prizes for Best Design Project of the Year and Best Horticultural Project of the Year - what a haul!
We are proud to be associated with a company of such stead and success, so a huge congratulations to the team.
But that's not all! There were also a number of other Simpro landscaping customers that took home prizes, including:
The Mace Landscape Group who was awarded Silver Medals in Landscape Horticulture and Garden Management
Goom Landscapes who was the Premier winner of the evening with Gold Medals in Landscape Design and Landscape Construction. They also took home the prize for Best Construction Project of the Year
Humphrey's Landscaping Ltd who won the prize for Best Maintenance Project of the year, and was awarded a Gold Medal in Garden Management.
Talk about champions! These are all clearly well-deserved awards and we are very proud to boast these successful companies as customers of ours.
A huge congratulations goes to all the winners on the night. Our team certainly enjoyed celebrating your achievements. Check out some photos from the event in the gallery below.