Find out how much capital you'll need to start your own security company
Discover a host of different security services you can offer
Read through the steps you'll need to take to get set up for business
Explore different marketing strategies for your security company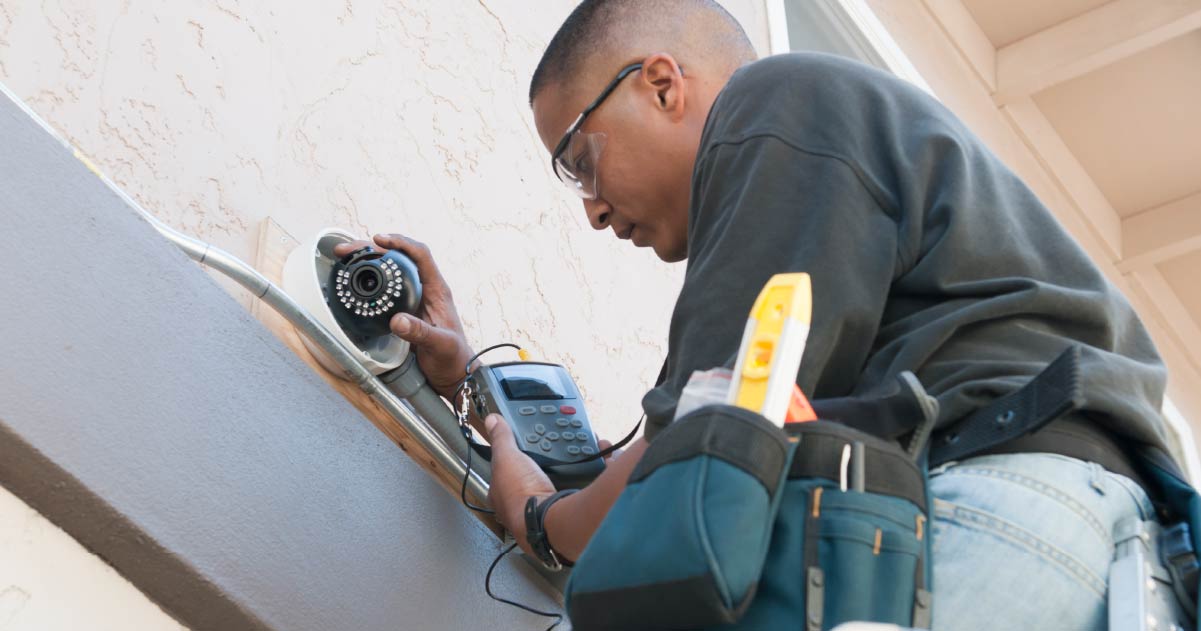 Starting your own business is a daunting task, one that requires a lot of well thought out decisions and a solid business plan– among other things. Here, we'll take you through a step-by-step guide on how to start a security company, the requirements to start a security company, startup costs and even some marketing strategies to get you on your feet!
You've probably got questions and thoughts such as is starting a security company a good idea? And how much does it cost to start a security company? Let's start from the top and take a look at answering those questions.
How Much Capital Do You Need For a Security Company?
This is such an important step when thinking about starting a security company, or any company for that matter. It requires considerable capital investments to cover start-up costs, such as equipment and personnel salaries, as well as ongoing operating costs. On average you're going to need between $10K and $50K (USD) to start your business.
When determining the necessary capital investment for your business, it's important to consider both start-up costs and ongoing operational costs. Start-up costs are those associated with establishing the business and getting it off the ground, such as purchasing equipment or hiring personnel. On the other hand, ongoing operating costs cover regular expenses like payroll, rent and insurance.
Breaking Down the Types of Security Services
Everyone wants to feel safe and secure, whether it's at home, in the gym or at work. And with all the different types of technology at our fingertips, there are a variety of different security services available. When thinking about how to start a security company, you want to make sure you're aware of the different types.
"Like a lot of big decisions, learning how to start a private security company involves a lot of preparation."
Statistics show that 61% of private security companies in the US offer alarm monitoring systems or surveillance cameras. Alarm monitoring involves installing sensors throughout the premises that are connected to a central control panel, which monitors them for any signs of intrusion or unauthorized access. These alarm systems are programmed to alert local authorities or contact the owner directly when triggered. Probably one of the most common forms of security service, as nobody wants to get home or into work and find they've had an unwanted guest.
This feels like a no-brainer when starting a security company, but with video surveillance you can take security that one-step further. With the rising popularity of baby-cams and Ring doorbell systems, people want to be able to see everything, at anytime, which is possible now more than it ever has been. Within a commercial space video surveillance is often monitored by trained staff, as well as ‌recorded, should the footage need to be played back. From a residential standpoint, it just gives customers that additional peace of mind for their own security. Surveillance cameras are often used alongside other security measures such as motion sensors and alarms systems for added protection.
Access control systems are another popular form of security service. That involves limiting access to certain areas with electronic locks or keypads that require codes or credentials.
There's also the option of using fob or keycard access. They're a lot more commonly used within business settings. However, it's not completely unheard of within residential buildings.
By getting to grips with a few different security services and understanding their requirements, you're one step closer to starting a security company.
Steps to Start a Successful Security Business
Like a lot of big decisions, learning how to start a private security company involves a lot of preparation. However, by breaking down the steps you need to take it helps to compartmentalize the process. Let's take a look at what you need to think about including:
Choose your specialty
Develop a business plan
Create a brand identity
Take care of legal matters
Get your finances in order
Consider insurance options
Market your business
Start hiring employees
1. Choose your specialty
You want to have a clear focus on what services you want to offer customers. For example, you can specialise in security systems like closed-circuit television (CCTV) or access control systems for commercial and industrial customers to start. As you grow, you might also want to focus on winning larger electrical contracts for new commercial builds or even government projects.
If you plan to go down the residential route, focus more on low-voltage work such as installing or repairing doorbells, garage door openers, home security sensors, thermostats or landscape lighting. You can even specialize further to focus on installing and maintaining fire alarms and protection.
2. Develop a business plan
Start by developing a business plan that details how you'll allocate all your resources across the business. Planning how you'll spend your initial investment and balancing profit and loss is vital to maintaining cash flow. But, you'll also need a plan that covers the smaller details.
For example, some questions you may want to ask yourself are: how many staff members will you need to complete the amount of work you'll take on? How much will you pay them? (Remember, different skill sets may require a different pay structure. For example, if you need someone with law enforcement background, you may need to pay them more.) Which tools and equipment do you need on hand to complete jobs and projects? And where will you store equipment, office work and keep your vans when they aren't in the field?
"Starting a security company can be a profitable venture, but it requires careful planning and execution."
A detailed business plan should include market analysis, financial projections, strategies for marketing and customer acquisition, as well as operational plans for day-to-day operations. This document serves as the roadmap for your business and will help you secure funding from investors or lenders if necessary.
3. Create a brand identity
Brand identity is so important when establishing how to start a security company. It's how customers recognize your business. It includes coming up with a name, logo design, website design and any other visual elements that represent your company's values and mission statement. Your brand identity also helps you stand out from the competition, and claiming that identity shows potential investors or lenders that you are serious about starting a successful security business.
4. Take care of legal matters
The next step is obtaining all the necessary licenses required by law to operate legally in the security industry. Different states and countries may have different regulations, so it's vital you check your local regulations to understand what type of licenses you'll need.
On top of that, you may need to register your business with the government and get a business license. When in doubt, visit your government's website and look for information on registering a new business.
5. Get your finances in order
As we established earlier on, you're going to need a little bit of collateral up front before starting a security company. You'll need to get used to having a tight grasp on your finances as it's one of the most important aspects of running any type of business. You'll need funds upfront to purchase equipment such as cameras or alarm systems, as well as cover operational costs such as rent or payroll expenses. Just until income starts rolling in from customers paying for services, that part can take a little time while you're getting on your feet.
Make sure you create a budget plan that allows you enough breathing room without going into debt unnecessarily.
6. Consider insurance options
Insurance coverage must be arranged before you start operations as a business. Insurance protects both yourself and your employees against potential liabilities associated with providing security services. You could also speak with an insurance agent who specializes in this type of coverage before making any commitments, so you know you're getting the best suited coverage.
As a rule, it's a great idea to have general liability insurance, insurance that covers employee injury‌ and property and auto insurance. It's also worthwhile to get insurance that covers tools and equipment so that you can easily replace anything stolen, lost‌ or broken.
7. Market your business
Get ready to show off your brand and get your security company in front of potential customers! Marketing your business is vital to your success. It helps build brand awareness, win new business and generate revenue through sales.
At a basic level, websites serve as an important marketing tool. It helps you show up online when potential customers search for a security company near them. Plus, you can ask happy customers to leave online reviews and share their experience with your business with others so that potential customers follow suit, simply through positive word of mouth.
We'll be diving into more detail around marketing strategy hints and tips in the next section of the blog, so for now we'll put a pin in it.
8. Start hiring employees
You've chosen your security niche, developed a business plan, generated some great branding ideas and sorted out the financial and legal matters. Now you can hire great people who will help you steer your security company in the right direction, and promote healthy revenue and growth.
You want to look for people who have technical knowledge related to the security industry, but also soft skills such as customer service abilities. That way, they can interact appropriately with customers while out on site, or when chatting with them on the phone and via email. Don't forget, as a company in charge of your customer's security, you will face ‌extra scrutiny. You will need a policy and procedures for gaining background checks and vetting employees that are involved in your company. Another thing to consider when hiring is that your employees share or at least respect your company values and ethos. This makes the partnership a lot more organic. It will foster a culture where employees want to see your business thrive and in turn, help towards company growth.
Looking to grow your existing business?
Get tips on how to scale your field service business
Read Now
How to Market a Security Business
We've mentioned marketing quite a lot up to this point, but you really can't ever underestimate the power of a good marketing strategy. It puts your business name at the forefront of people's minds and lets them know you're here. In turn, driving profits, revenue and increasing your scope for growth. Let's take a look at a few tips and tricks that help with your marketing strategy and understanding how to start a security company.
Snap up your Google Business listing
The first step to being seen online by customers is to appear on Google. On the right hand side of the search results, you'll often see a map with a business and links to its website and contact information. This is a Google My Business listing. When you start a new business, you need to add or claim your business profile on Google to make sure you show up in the search results for your business. Google provides some helpful tips on how to claim your Google My Business listing.
Utilize the customer community to boost sales
It's cheaper to retain customers than convert new ones. That's a fact. So why not work on nurturing existing relationships, and go that extra mile to increase the chances your customers will want to hire you again. Go beyond simply completing their initial job and instead find ways to build genuine relationships with existing customers who might need, or have, recurring work.
Incentivise new customers to become repeat customers by offering special discounts or referral bonuses on top of any bundled services. In addition, using customer reviews is a great tool so encourage your customers to speak about your business online. How many times have you wanted a service or specific business type and looked up ‌reviews online first?
It's also key to listen to your customers. Taking feedback from your customers will not only give you insight into how to keep them, but will also show you what prospective customers might be looking for.
Build a user-friendly website
Starting a security company involves creating and maintaining an easy-to-use website. This drives customer engagement and your brand presence, as well as giving potential customers a place to find valuable information about your business. With just about the entire planet using technology daily, more and more people are using their smart phones to surf the web. So one of the first things you want to be doing is making sure your website is optimized for mobile viewing.
Ensure that the key details about your business are on your website. This includes things like a contact number, email address, business address and an enquiry form. This makes it super easy for any potential customers to contact you, at a convenient time for them.
And, once you've got your website up and running, think about extending your online presence to social media such as Facebook and Twitter, as well as other local business listing websites.
Build like-minded connections
Having connections within the security industry can help you answer the question: is starting a security business a good idea? Sometimes the best thing you can do for your business is network with others in your industry. A great way to expand your security business when you're ready to take on more work is to partner with professionals in your region. Then, once you've established a strong rapport and shown your reliability, they'll think of you for all their security needs!
Four Great Tools to Consider as a Security Business Owner
It's important to have access to the right tools and technologies to help manage your operations. Utilizing the right tools can help streamline processes, increase efficiency, and improve profitability. Here's a short list of some great tools at your disposal.
Inventory management software. In learning how to start a private security company, you'll quickly learn how important it is to know what's in stock. Materials are required for your daily operations and field staff will always need to ensure they have the right equipment for their jobs. This process is made a lot easier when you have a digital system, one central hub where you're able to monitor and order stock accordingly.
Invoicing and payment software. A lot of businesses use software such as Xero and Sage or other similar platforms for invoicing. It helps streamline processes for your accounts department, as well as reduces the time spent on administrative tasks. But what about looking into software that integrates with existing systems? That way you can be sure your customers are receiving invoices promptly and everybody within the business has access to the right information.
Customer relationship management (CRM). CRM platforms allow you to capture leads quickly, segment them into different categories based on interests or demographics‌ and track interactions with customers. With a good CRM system in place, you can get an accurate view of how customers interact with your brand. In turn, helping toward marketing decisions as well as enhancing the customer experience overall.
Maintenance planning. Starting a security company and juggling all the services you provide can be a lot to manage. So find a software that lets you schedule and allocate resources for maintenance work. Within the security industry there'll be types of equipment that needs to be maintained. It may be weekly, monthly, annually or anything in between. With software, you can ensure these types of jobs aren't left on the shelf. It's important for your customers to know these jobs are scheduled in the calendar, to ensure maximum efficiency of their products. And it's important for you to ensure your business operations are running smoothly.
Summary
Starting a security company can be a profitable venture, but it requires careful planning and execution. Hopefully this blog has helped give some insight into the steps you need to take to stay competitive, and grow your business. As long as you stay focused, have a solid business plan and effectively manage your own finances, you'll be on to a good start.
If you're looking for further insight on the best ways to grow your field service business, we've got a blog for that too!