Learn what a job order costing system is
Find out the benefits of implementing a job order costing system
Discover job costing tips for your field service business
In order to accurately track profit and loss on your jobs, investing in a job order costing system is key. But first let's go back a step, what is job costing?
Job costing is the process of tracking materials, labor, contractors, equipment and overhead costs involved in completing a project. Job costing processes may look different from company to company depending on customer requirements and industry standards. However, carefully and accurately monitoring job costs is important no matter what kind of field service business you run. If you're not monitoring this correctly ‌then you risk under-estimating ‌job costs as well as hemorrhaging money.
What Is a Job Order Costing System?
One of the most efficient ways to properly track job costs is using cloud-based software. Field service management software can improve the accuracy of job costing by providing live updates of profitability throughout different stages of work. Keeping financials organized in a manner that is easy to understand and connects to other parts of the job management process.
For a job order costing system example, by adding the relevant materials and labor to a job using a job order costing system you're able to see an overview of all the costs at a quick glance. This also means that other departments who need access to this information can see it too, without having to make additional phone calls or emails. In addition, your field staff are able to update relevant job based details on-site, which is then fed back to the office.
The Benefits of Implementing a Job Order Costing System
There is a lot of plate spinning when it comes to managing your own field service business, so why not make it a little easier for yourself? There are a host of benefits that come with implementing a job order costing system, all of which will make your life easier. Let's take a look at just a few of them.
Increased accuracy - if you don't have financial accuracy it will have a negative impact on your business very fast. A job order costing system does a lot of the hard work for you, so you don't need to worry about mind numbing calculations. As long as you're putting the relevant material and labor costs against each specific job, you'll get an accurate forecast of your business spendings in relation to specific work. With a manual process it's a lot more prone to human error.
Adapts with ease - there are always occasions where a job changes midway through its progress. Whether that's due to additional work requested from the customer, further cost incurred for additional raw materials required or unforeseen delays holding up the job. The last thing you want to be doing is rifling through paperwork to try and re-calculate job costings.

With a job order costing system you can amend any details at any stage of a project, safe in the knowledge you're saving administrative time and money.

Employee performance tracking - each member of staff will have their own skill sets and different ways of working. This means that everyone will work at a different pace and performance. So how do you monitor that to ensure you're sending out the right people for the job? A job order costing system helps you assess individual performance, as you're able to see how long the work is taking. You can also keep track of individual training and certifications.
9 Job Costing Tips for Field Service Businesses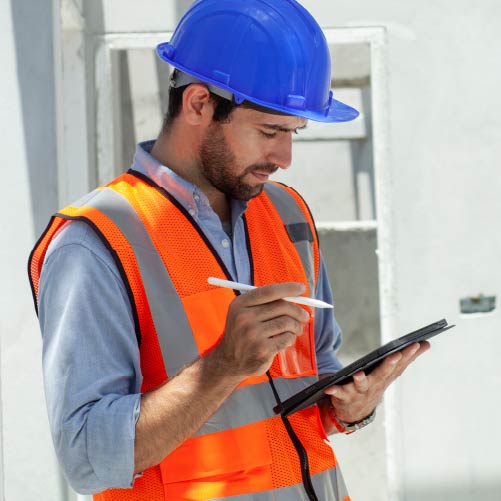 When using a single software system, here are nine helpful job costing tips to keep in mind:
Create a system to categorize your costs. How do you keep your different costs organized? Does everyone on your team know which costs are billable and which are non-billable? With a job order costing system, you can create cost centres to organize your expenses and then easily assign them to a quote or job. By naming your cost centres, you can ensure your staff are on the same page and using the system to categorize costs.

Track change orders. When your customer requests additional work outside of the original job scope, do you keep track of the additional labor or materials costs? Even if the requested add-ons seem minor, these changes add up and impact the total cost of a job. By recording each change and keeping it in one place, it's easy to add the additional costs.

Run consistent reports. Do you know where your costs stand in real time? Use software that allows you to schedule regular reports on your work in progress and cost to complete. This way, when you are job costing, you can easily see amounts that have been billed up to a certain point, net margins on a job, overall costs expected, remaining forecasts and other important cost information at any given time.

Empower field staff to track labor hours in real time. Are your field staff accurately recording their time spent on a job? By using a job order costing system that connects with a mobile app, you can update hours worked in real time to**** compare scheduled time versus actual time for accurate job costing. When labor hours are updated in real time, it is easier for you to review and update labor costs.

Streamline and improve your estimating. Build out your estimating library with accurate catalogs and pricing from your vendors, and then create prebuilds and take off templates to create a base schedule of rates. With fit time multipliers and labor-type efficiencies, you can fine tune your estimates. Then, track original estimated costs, revised estimates and actual costs on jobs to refine your pricing. To further streamline estimating, issue and update pricing from vendor quotes based on the specific project to adjust your margins or price on the job.

Avoid double data entry. As you are costing jobs, do you constantly need to transfer information from one program to another? This not only wastes time, but it can also result in data entry errors. Use a single software system to connect your estimates to your job costing and invoicing processes and eliminate double data entry.

Monitor progress invoices. Improve your cash flow and help keep projects on budget by issuing invoices at set stages within a project. However, it is important to closely track these progress invoices and relevant payments to make sure you are costing the project accurately.

Track subcontractor work orders and costs. Software can help organize initial estimates from contractors, issue work orders and track invoices against those work orders. You can even manage your recipient created tax invoices (RCTI) process if you have contractors that work for you consistently.

Keep track of every cost. For truly accurate job costing, it is important to track every cost involved in a project. Plant rental, maintenance and charge outs can all contribute heavily to the end result of the job. Additionally, contingencies, disbursements, allowances and even overhead allocations should also be included.
Summary
If you don't have consistent processes for job costing, it may take some time to get your staff on board. However, your efforts will pay off. Using a job order costing system will help in implementing each one of these tips.
If you're looking for further tips on how to make job estimation and costing easier, we've got you covered with a handy checklist.