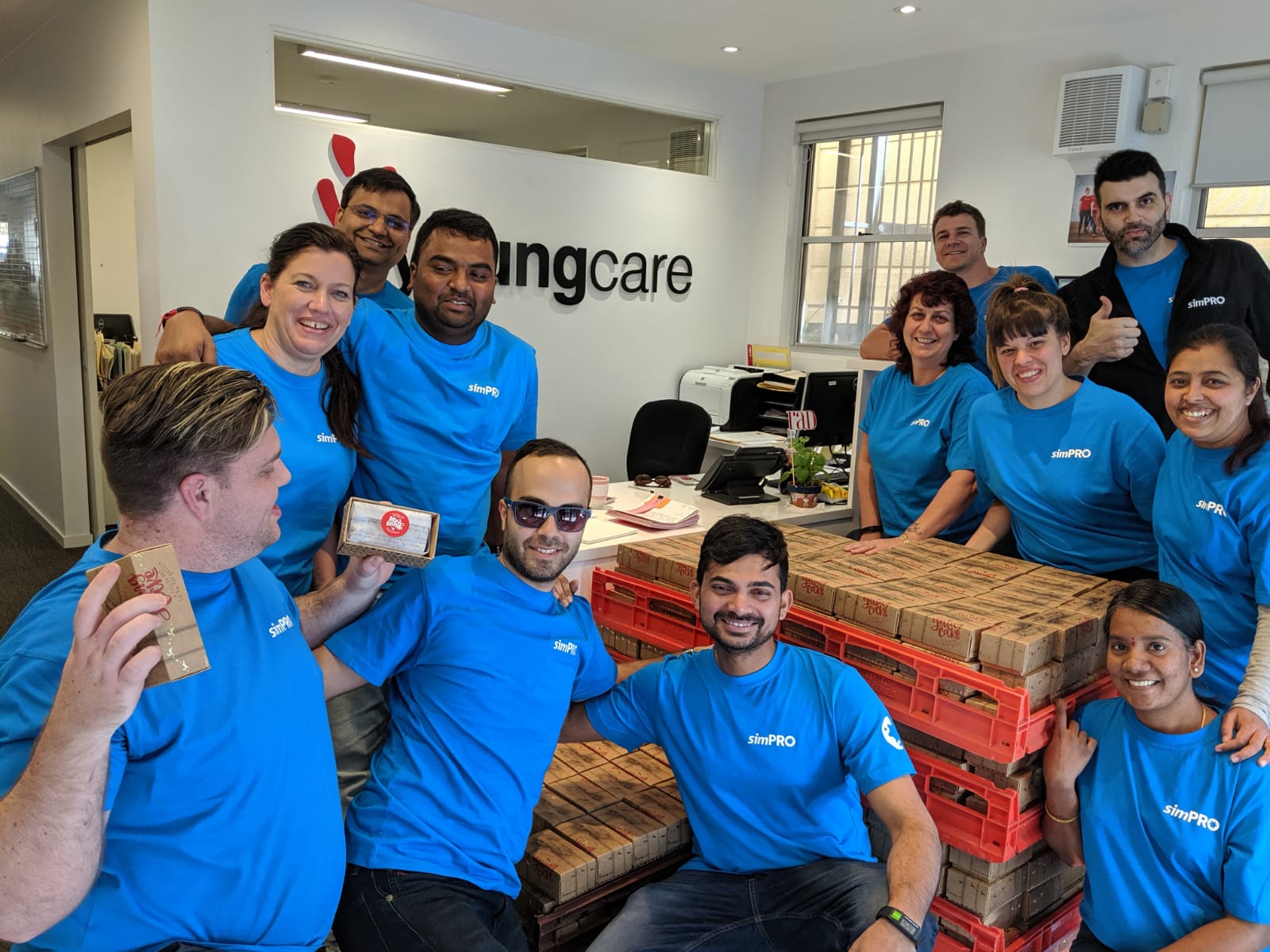 Love cake? So do we. That's why a team of twelve employees from Simpro rolled up their sleeves last week and lent a hand at the Youngcare Christmas Cake Wrapping fundraiser.
With Christmas only a few short months away, our team of Cake Experts (a self-appointed title) banded together to volunteer their time and cake wrapping skills at the Youngcare Spring Hill office.
Coming together from all areas of the business, the Cake Experts were tasked with the goal of packaging 1250 cakes in one day!
The team got stuck in, folding special gift boxes and wrapping delicious blonde Christmas cakes in paper that showed a special message from the recipe's caretaker Brownyn, a Youngcare resident.
Under the watchful eye of Youngcare coordinator Natalie, we managed to hit our goal and package the full 1250 delicious cakes for the fundraiser.
Why we care about Youngcare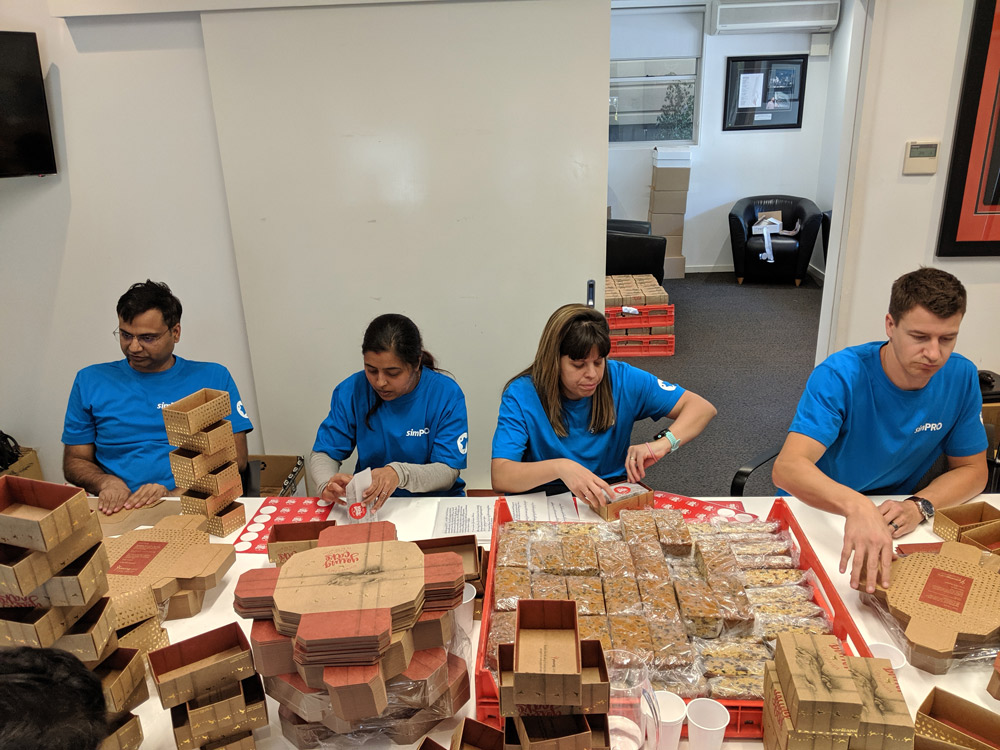 All too often young disabled Australians are left in poor quality housing situations, with no choice but to move into Aged Care homes to receive the intensive care they need.
Youngcare is a not-for-profit organisation that creates much-needed change for these young people by tackling the problem head-on.
Working with various industries, the government and the wider community, Youngcare builds and maintains high-quality housing solutions to give these young people the freedom to live their lives with greater independence, dignity and choice.
Simpro has been supporting Youngcare for over five years and we continue to be astounded by the work of this incredible organisation.
Why these cakes are so special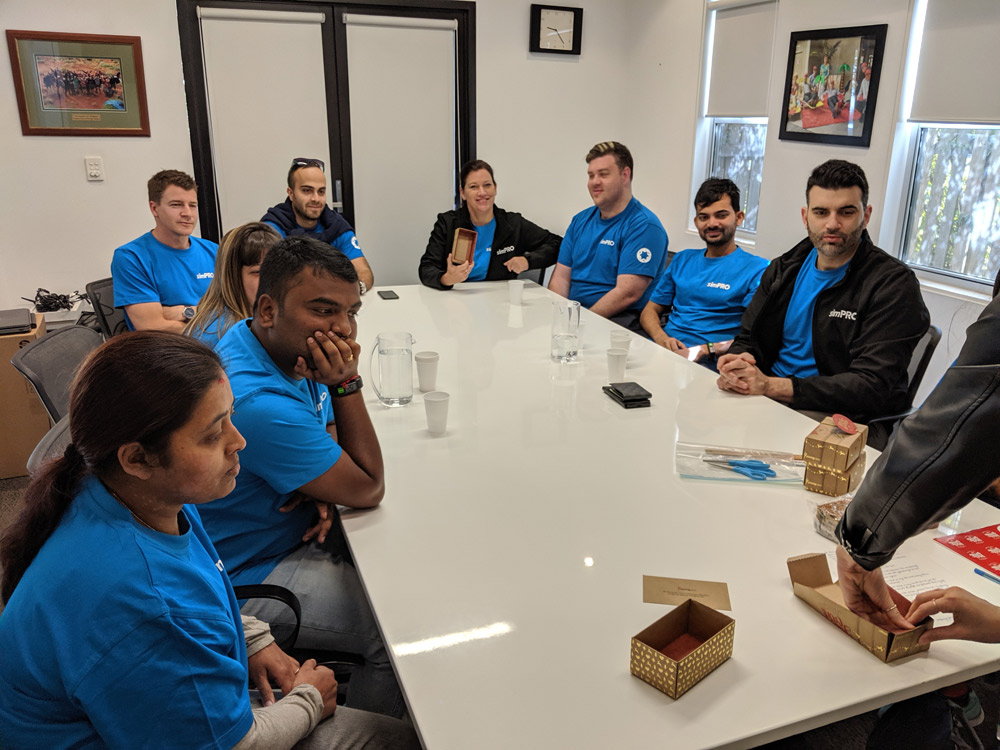 The recipe for these delicious Christmas cakes has been handed down through generations.
Brownyn's great grandmother was the original creator. A quirky recipe that among other things, calls for newspaper wrappings while cooking (to keep the cake moist) and has been given the thumbs up from almost everyone who has tasted it - including celebrity chef Ben O'Donoghue.
Each cake is also wrapped in wax paper that has Bronwyn's story written on it in her own handwriting, making them extra special.
Best of all? All the funds raised from selling the cakes will go towards continuing to building independence for young people with disabilities.
You can buy your very own Christmas Cake from Youngcare by visiting their website, but be quick as they sell out fast!