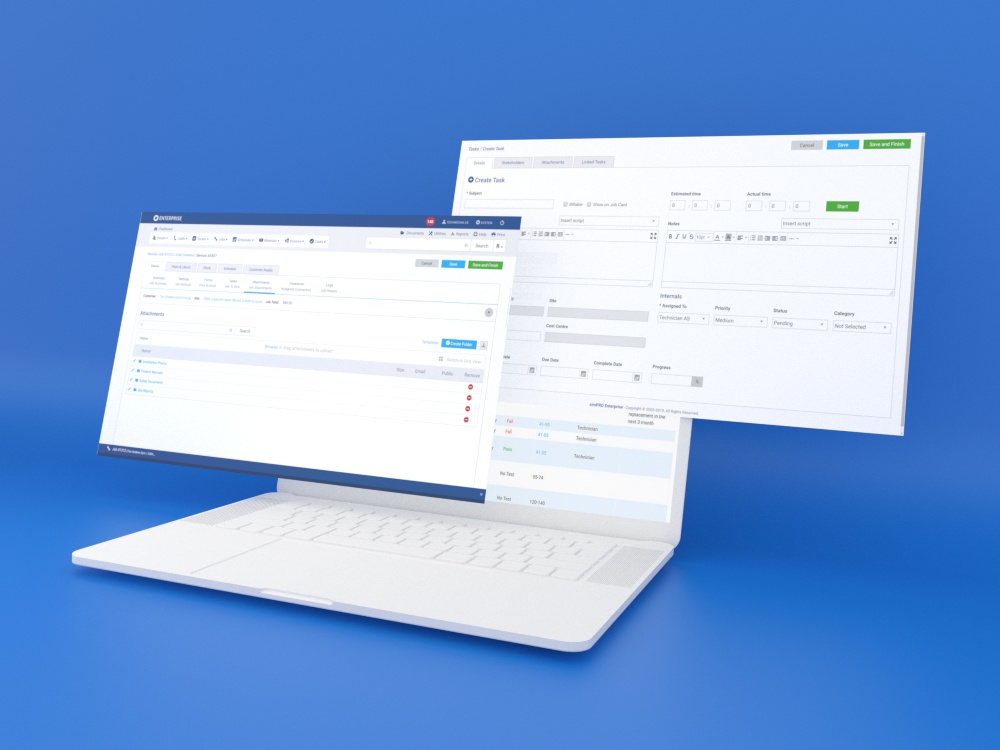 The upcoming Simpro release will start rolling out from September 8. The release kicks off a series of improvements to Simpro's Project Management tools and introduces folder templates to make it easier to maintain a consistent attachment filing structure for jobs, leads, quotes, and recurring invoices.
Improving Simpro's Project Management capabilities
We're strengthening Simpro's Project Management features! There will be a number of changes over the coming months to help you better manage your project work directly in Simpro instead of transferring work to other systems.
In this first round of Project Management updates, we've put the attention on Tasks. Below you will find information on key changes, and we recommend reading the Help Guide to find out more about the full release including
Terminology changes
Additional columns on the Task table and modify table views
Templates
Automatic start and end dates
Linked Tasks
We've extended the functionality of linked tasks and made it more intuitive to associate them to a Customer, Project or Cost Centre.
The start date for a dependent task must occur after the end date for the prerequisite. And when the end date for a prerequisite task is changed, the dates for all dependent tasks will update accordingly. This will make it easier to adjust timelines over the entire project, as the changes cascade through all dependencies with the original ratios between dates being maintained.
Changes to the Linked Tasks screen will ensure new tasks are linked. The "Create Dependent Task" button links the existing and new task in the right way. If staff want to create a new, unlinked task, they will be able to do so from the project.
Date validation
Date validation will make sure that timelines make sense! For tasks that span a period of time, the start date must occur before the end date. You will still be able to set up a task with only a start or end date without the validation impacting your work.
Progress tracking
You will now be able to see how much work is left to do on each task. A new field allows users to manually enter a progress percentage. Likewise, a completion progress percentage can be set against the cost centre.
Customer feedback leads to Attachment Folder Templates
Many Simpro customers carry out similar types of work every day, and they have defined processes for how folders for attachments are set up for these common scenarios. They can now speed up their process, and maintain consistency by using folder templates, a feature that has been driven by customer feedback in the Ideas Portal.
Previously staff would need to manually set up the folder structure that was specified by their internal processes. Now, users with appropriate security permissions can save an existing folder structure on a Lead, Quote, Job or Recurring Invoice into a template. These templates can be applied to any other work of the same type, by any user, to automatically create the required folder structure.
What else is new in Simpro?
The Sales Invoice Report now includes the job name for quick reference
Report Builder has been renamed BI Reporting
With every release, there are slight improvements in addition to the main features we've included above. You can read the outline of all the enhancements made in the dedicated release notes for 19.3.5 in our Help Guide.
With new features being released regularly, make sure you stay up to date with the latest Simpro news by following us on Facebook, Twitter or LinkedIn, or keep an eye on the blog.