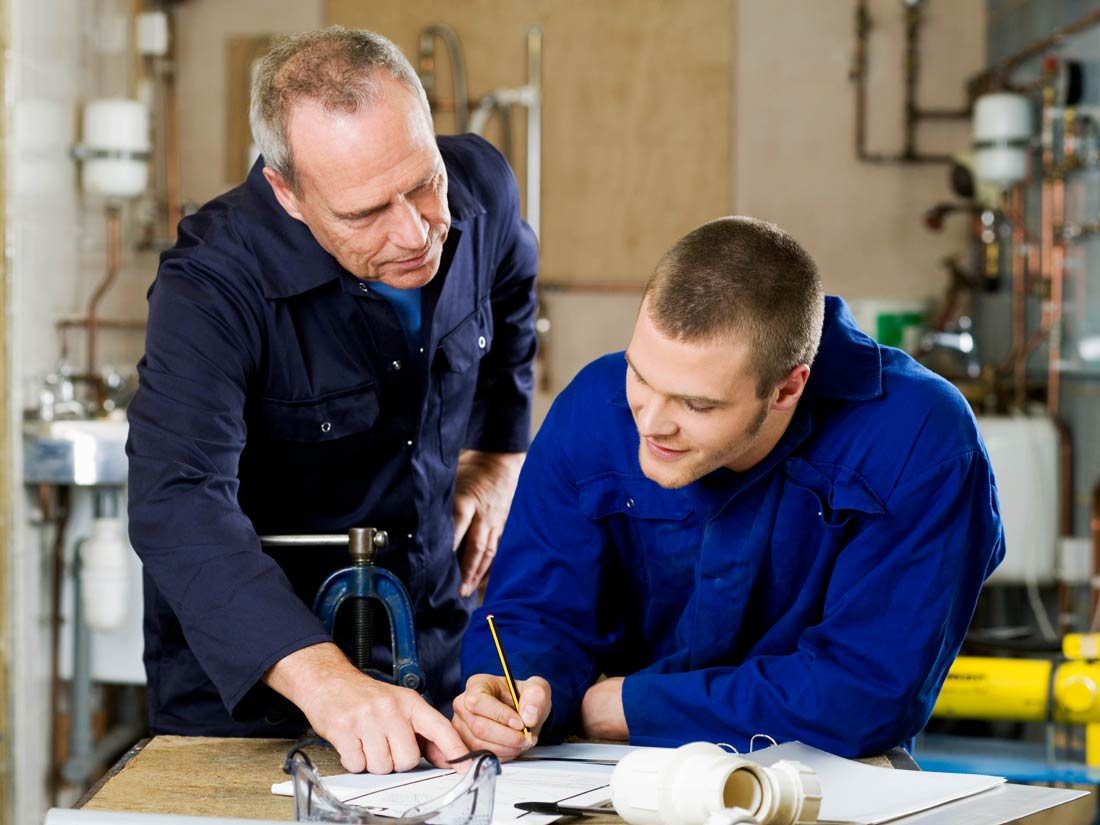 I want to pump gas.
That is the earliest answer I remember having to the question: What do you want to be when you grow up? My answer evolved to a house painter. Then, as a pre-teen, I discovered music and theatre and thought maybe I'd be the next member of the Spice Girls ( that didn't work out).
But then I got to high school. Dreams turned to practical plans based on grades and test scores, and the world suddenly had clear expectations for my peers and me regarding our future–especially when the beginning of the school year came around, and we went to our school counselor to make a plan. This "plan" usually meant that you went straight to a traditional four-year college after high school. We never learned about any other options, including trade school and other technical education.
It's not uncommon for young adults to learn next to nothing about alternative options to college–especially the trades.
One recent online survey found that "more than half of the 500 men and women polled said they're not interested in attending a trade school" and that many surveyed between "ages 18 to 24 would rather work in a coffee shop than in a high-paying skilled trade."
And while "European nations prioritize vocational training for many students, with half of secondary students participating in a vocational program, in the US especially, "since the passage of the 1944 GI Bill, college has been pushed over vocational education. And a "college-for-all narrative has been emphasized for decades as the only pathway to success and stability."
In addition, other research points out that "technical school students are sometimes considered lazy or unsuccessful by peers who attend four-year universities," and trade school is often seen as a "backup" option for young adults who aren't accepted into a traditional four-year school. Parents often discourage their kids from trade school because they think it doesn't offer the same job stability that comes with a degree from a traditional four-year college.
But there's data that tells a very different story. Skilled workers are in high demand, and there are plenty of opportunities for young adults to build successful careers in the trades.
A model developed by Associated Builders and Contractors (ABC) found that "the construction industry will need to attract nearly 650,000* additional workers on top of the normal pace of hiring in 2022 to meet the demand for labor."
So stigma aside, which is better: trade school or college?
The answer is: It depends. Here's a breakdown of the pros and cons to consider when making a decision between college vs. trade school.
How do trade schools differ from traditional colleges?
There are many differences between trade school vs. college beyond the types of jobs they prepare graduates for, from the topics they cover to how many years they take to complete, and of course, their cost.
One of the biggest benefits of going to trade school is that trade school students can (usually) complete their degree and certifications faster and at a lower cost than those who attend a traditional four-year college/university program. This means that they can also get to work faster.
Trade school examples
For trade school, most programs take "between six months and two years to complete for full-time students," but it depends on which program you choose. These programs teach skills for specific industries within the trades such as:
HVAC Technology
Electrical Technology
Auto Mechanics
Aircraft Mechanic and Maintenance
Welding Technology
Commercial Truck Driving, and more.
The length of time to earn certifications varies depending on which type of specialization you choose.
For trade school, "average tuition fees range from about $3,600 us dollars to $14,500 per year." While "the average cost of college in the United States is USD $35,551 per year.
What are the pros and benefits of trade schools?
One of the biggest benefits of trade school is that you can receive an education that prepares you to get involved in a booming industry, work while you complete your education and start your career sooner. While it's possible to work as a full-time university student, it's often more difficult to balance work with classes due to scheduling. College classes often take place in the middle of the day, so many students work early in the morning or late at night outside of class. Trade schools usually offer a bit more flexibility. Therefore, choosing a trade school or college might come down to what works best for your lifestyle.
Another benefit of trade school? If for some reason, you don't complete your full program, you still have some skills you picked up while in training to fall back on. It can be trickier to find work based on your study if you drop out of a traditional four-year college, as you'll have fewer applicable skills to fall back on right away.
Plus, there's no age limit for when you can attend a four-year college. Since you can decide to go to a traditional college at any time, going to trade school early on when you're young can be a smarter choice that maximizes your time and resources as a young adult.
Is trade school worth It?
When choosing between college vs. trade school, it's helpful to look at the overall return on investment (ROI) expected after completing trade school and entering the field. To calculate ROI, it's helpful to compare the cost of attending trade school with the typical salary you can expect to make in your chosen field.
College Costs and Return on Investment
Many high paying careers require a traditional college degree to enter, but the rising cost of attendance (COA) for parents and students can make it harder to see a good ROI on a traditional college degree:
According to Forbes, "Public universities saw a 158.2% increase in sticker prices from academic year 1991-1992 to 2021-2022. However, from 2011-2012 to 2021-2022, public universities upped tuition by only 8.6% on average."
Choosing between college vs. trade school means you must weigh multiple factors, including cost, time to complete, return on time and investment and more. Then there's the final piece to consider– what are your personal interests, and which career path will help you pursue those interests?
And while you may not have a crystal ball to see into your future and find the answer to whether you'll choose college vs. trade school, at least you have this article to look back on while you debate (as long as you bookmark it, that is).
Want to learn more about a career in the trades? Check out our case studies to hear from real trade business owners who've grown a successful career on the tools.