Discover why effective contractor management is crucial for a business's reputation and profitability.
Why are clear expectations and maintaining good relationships key to success?
What features should you prioritize when looking for the best contractor management software?
What are some signs that you need contractor management software?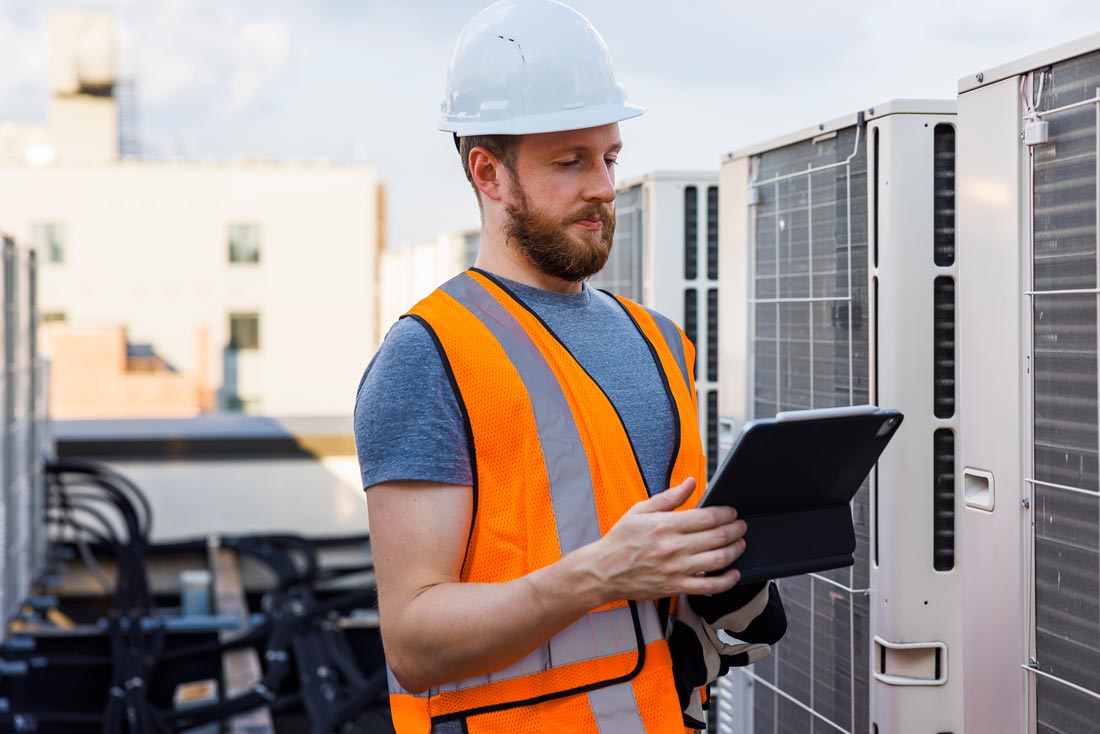 Many businesses hire contractors to help with their workload. But managing a chaotic process can quickly get messy. To help increase the efficiency, reliability and scalability of your business, you may consider bringing on new technology, such as a contractor management system or some project management tools.
This technology can lead to improved job management workflow and increased time saved. A contractor management system can also provide better visibility over your contractors' available workloads and skill-to-job matchups. With all those benefits, adopting contractor management software for your business should seem like a no-brainer. So, let's dive into what the best contractor management systems are, plus the signs that your business needs one.
The Importance of Effective Contractor Management
If your contractor management practices aren't up to par, it could affect your business's reputation and bottom line. For example, if a customer requests work to be redone because of a miscommunication, it will cause delays in completion and further expenses. This is something that can be avoided with solid contractor management by recognizing issues before it's too late and addressing them early.
Contractors usually require less instruction than regular employees, and managing them is entirely different than managing direct employees. As contractors manage their own days to some degree, it's important to set boundaries and expectations early on to avoid miscommunication or confusion.
For example, clearly define what is expected of them when representing your business on-site. This includes anything from the scope of work involved, their responsibilities on the project and completion timelines given to the customer, as well as any protocols on-site that might be important to follow. As an employer, you must ensure they have everything necessary for them to complete the work as agreed.
If expectations are not set at the start, it can cause issues later in the relationship. You should also aim to maintain good working relationships with your contractors, as it's far easier to hire the same contractors for new jobs versus finding new ones.
The main responsibilities of contractor management include great communication and effective organizational skills. As the employer, you're in charge of managing any documentation regarding a job's completion, following up with anything that may be missing and ensuring contractor-submitted invoices are processed on time. It's also important to know which contractor is working on which job. This is where manual processes quickly get sticky.
As part of your larger field service management practices, project management tools and contractor management software can shrink the time it takes to organize your contractors since you're not relying on shuffling through a mountain of papers or spreadsheets.
The Benefits of Implementing a Contractor Management System
Adopting contractor management software benefits your business in various ways. Here are a few of the benefits you'll see after you adopt a technology-based contractor management system:
Streamlined organization. Traditional paper-based methods restrict how efficient you can be with your time, as you'll spend a lot of it rifling through various spreadsheets. With contractor software, all that information will be at your fingertips, vastly reducing the time you spend searching.
Efficient cost management. Having complete visibility around job costs, time cards and, specifically, contractors at any project stage enables you to make more informed business decisions. This, in turn, will make it easier to manage contractor costs.
Intelligent business reporting. Gain insights into different aspects of your contractor's work by setting up regularly scheduled reports that run weekly, bi-weekly or even monthly. This enables you to monitor the progress of jobs at different stages and adjust anything before it becomes a real problem. Use Gantt charts to easily see the expected duration and start date to keep project schedules on track.
What Makes a Good Contractor Management System?
When you're shopping around for the best contractor management software, there are a lot of key features that contractor management tools will share. Let's look at some of the features you'll want to prioritize:
Exploring The Best Contractor Management Systems
To help get you started on finding the best contractor management system for your business, we've compiled a list of the top vendors, and then detailed their pros and cons. Depending on your current processes, how many contractors you need to manage and your goals for your business, you'll need to look at each system and what it offers to find the best match.
An all-in-one field service management platform, Simpro offers everything growing trades businesses need in a contractor management system and much more. From scheduling and timesheets to site management, fleet tracking and both customer and contractor portals, Simpro offers one of the most robust feature sets that's designed for trade businesses to succeed.
Simpro users tout its comprehensive and logical workflows and its end-to-end tracking capability from lead to quote to job, and then to invoice and payment. As a comprehensive platform, there are quite a few features and capabilities to learn, but with their available training, once you get the platform running for your business, it's second to none.
For trade businesses looking for an app that will help them with scheduling, dispatching, invoicing (including estimates and payments) and even collecting reviews, Housecall Pro is a solid choice. Offering features that help businesses throughout the entire sales cycle, the platform promises to help its users work simpler and grow smarter. User reviews praise the contractor management software's ease of use, but several mention issues with bugs and varying success with customer support.
A field service management platform that offers many of the features necessary for contractor management, Jobber helps trades stay on top of appointments, create quotes, schedule jobs, send invoices and get paid by customers. Users who reviewed Jobber mention their app's ease of use, but some may find the features too simple for a growing business. The lack of some functionality may prevent some users from experiencing success with the platform. So, ensure it has what's critical for your business before putting all your eggs in the Jobber basket.
Leap focuses more on contractor management than the others on our list, but that doesn't make it any less of a fit for businesses that need help with project management, lead management, team collaboration and other business management processes. While Leap has the features you would expect from good contractor management software, user reviews report that it can be pricey to start with, and some report accuracy issues with analytics.
Much like most options on our list, Service Fusion is an all-in-one field service management software that helps trades with customer management, dispatching, scheduling, invoicing, reporting and payments. One of the more expensive options at a base price of $195/month, the platform does offer end-to-end features that help both in-office and field team members with their day-to-day work. Reviews do mention the vast number of features can be overwhelming and difficult to learn with the current training options, and no offline access prevented some from using it at all.
4 Signs You Need Contractor Management Software
Not sure if your business is ready for an upgrade to your contractor management tools? Here are a few signs to look out for:
Workload has increased. It's great that your business is growing, but that also comes with an influx of work to do and manage. When you receive lots of business inquiries from prospects, it quickly gets overwhelming to manage all your new work (and contractors). Especially if you're still stuck with paper-based methods. If you're finding it all a huge headache, looking into a contractor management system is a wise choice.
Processes are slow or disjointed. Whether you're a small or large business, managing processes with your contractors has to feel fluid. However, if you're overseeing this as a one-man band, it takes a lot of admin hours. The last thing you want is projects left incomplete, and this can be the case if your time management and contractor management processes are not smoothed out. Good project management ensures everyone understands what is expected of them.
Certification requirements are difficult to track. As your business grows and you make new contractor connections, you'll quickly have many job requirements and certifications to keep track of. If your current process involves spreadsheets and never-ending rows of data, not only is it prone to human error, but it's also very time-consuming. It also means data has to be updated manually, with no easy solution to integrate and share updates as they happen.
Visibility over operations is murky. How you handle your business plays a huge part in how successful you are. Getting repeat business and maintaining contractor relationships requires you to have a good grasp of how internal operations are (or aren't) working. The cornerstone for making this work is having a centralized area where you can keep important information (e.g., contractors' personal data and certifications, health and safety documentation) and where your processes are followed. If you're finding it difficult to keep a consistent and comprehensive view of the cogs in your business, think about digitizing operations with a construction project management software or contractor management platform.
Summary
Managing your contractors is an important component of your business. Adopting project management and contractor management tools will help streamline operations, maximize efficiency and increase visibility over your business operations. Take a look at our Ultimate Guide to Field Service Management for further tips and tricks on maximizing efficiencies with technology.