Discover what a contractor license is and why you need one
Learn how to get a contractor license
Find out how to prepare for a contractor exam
What individual state requirements are there when getting a contractor license?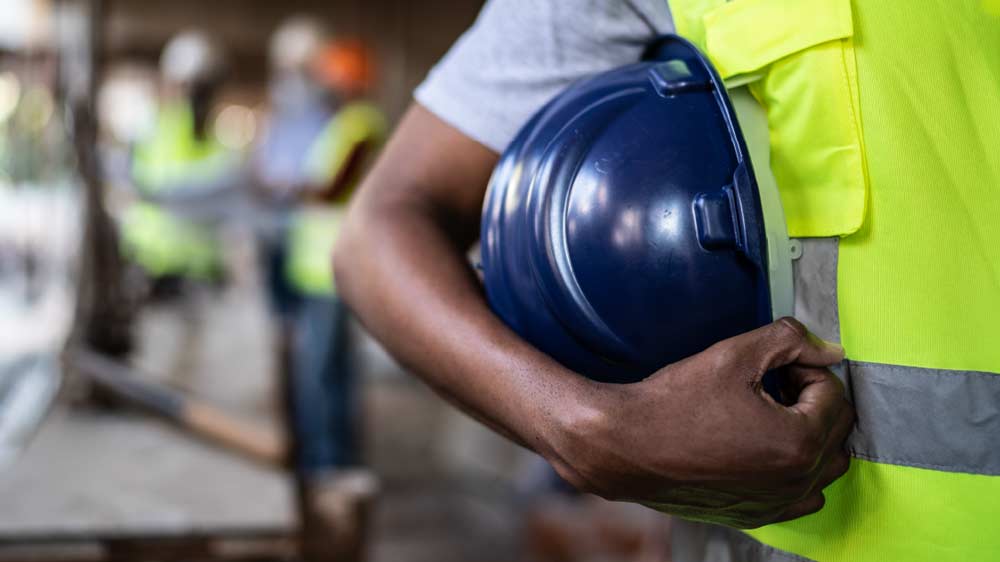 There is just a hair under 10 million construction contractors in the United States as of 2023. Contractor work involves building everything from residential homes to commercial buildings, and it helps create and maintain vital parts of our economy. The construction managers that oversee these workers and bid on contract projects need to have a contractor's license to do so.
What Exactly is a Contractor License?
Anyone could pick up a set of tools and claim they can perform some kind of construction project for a customer, but professional contractors know that they need a general contractor license to not only operate legally in many states but also to put customers at ease. The only way to separate the everyday person from a professional is to see who possesses a contractor's license or not.
A contractor's license is a document that is usually given by a licensing board for residential or proves that the holder has met specific requirements, and demonstrated certain abilities within the jurisdiction where they practice their trade. It can often be expensive to obtain and maintain a contractor's license, so it is a strong sign that the home improvement contractor who has it takes their work very seriously.
Why is a Contractor License Necessary?
There are several reasons why a contractor's license is necessary, from legal requirements to the ability to grow your business into something larger than it is now. Let's take a look at them in more depth.
Legal requirements and regulations for operating as a contractor
Before you ask how to get a contractor's license, you should first ask why it is necessary in the first place. The answer depends on the specific state in which you intend to practice your trade. For example, a North Carolina contractor license is necessary to bid on a project with a value of $30,000 or more. Meanwhile, a California contractor license is necessary for someone that wants to perform a job with a value of $500 or more in the Golden State. Each state is allowed to create its own regional regulations about what they require general contractors to do. In addition to licensing requirements, most states and municipalities also require general liability insurance. However, regardless of the requirements and application process, the lack of a contractor's license will often severely limit your ability to bid on and win jobs.
Protection for consumers and assurance of quality work
Aside from the legal requirement to hold a contractor's license to bid on certain jobs, it is also true that holding such a license can help bolster your reputation. Customers feel more comfortable working with someone who holds a contractor's license. Therefore, you can likely get more jobs by holding a contractor's license.
By obtaining and maintaining your contractor's license, it can show that you're committed and going to offer customers an incredible service. Customers know that they aren't simply dealing with a fly-by-night operation. Additionally, you must continue to provide high-quality work to maintain your license, so it is a great way to give customers peace of mind.
Access to larger projects, government contracts and increased credibility
You will be outright barred from access to certain projects and jobs if you don't obtain and maintain your contractor's license. It is extremely limiting and makes it impossible for you to grow your business to the fullest extent. In fact, in some states, the limitations are so severe that it is virtually impossible to do contractor work beyond something that might be labeled as a hobby.
Government projects will always require you to hold a contractor's license, and those projects can be extremely lucrative. If you wish to snap one up, then you must work to gain access to the contractor's license these projects demand.
Becoming a Licensed Contractor
Perhaps you have sat down and decided that you are ready to pursue your vision of becoming a licensed contractor. If you see the value of becoming a licensed contractor and are ready to take the first steps, here are a few things to consider.
Researching and identifying license requirements
You must look into the state-specific requirements for your state before you continue your pursuit of your contractor license. Howstuffworks.com explains this perfectly by saying:
All states require contractors to be licensed. However licensing laws vary from state to state, so just because you're licensed as a contractor in one state doesn't mean you're able to legally do contracting work in another state.
They also point out that some general requirements apply to virtually every state, including:
Be at least 18 years of age
Have either a GED or high school diploma
Be a US citizen or legal resident
Produce two passport photos
Post a "state license bond" for your company
These are all requirements that the average state will want you to meet at a minimum. They need to ensure that you are the type of individual who is responsible and willing to prove to them that you are a true professional in all that you do. Research the state-specific requirements for your area to ensure that you have everything together to apply for your contractor's license.
Stay Ahead of the Competition
Get the Toolkit to Scale Your Business Effectively
Learn More
Preparing for the contractor license exam
Obtaining a contractor's license is a big deal, the state is only going to provide one when they have ample evidence you truly know what you are doing. This is why it is necessary to pass a contractor's licensing exam to show you are a qualified individual. Given the value of your contractor's license, this exam is extremely high stakes. Therefore, you should think about some strategies you can put to use to prepare yourself for the exam:
Begin with the easiest questions - This exam is a timed test, and it is best to begin with the questions that you are absolutely certain of the answer to. This allows you to make visible progress and gives you a sense of momentum. Additionally, don't let your brain get stuck on the tougher questions where you simply aren't certain of the answers. If you get too caught up on those questions, you might burn precious time that you could have used answering the questions that you already know.

Try not to second guess yourself - Generally speaking, it is a dangerous thing to second guess yourself on the answers that you have given. Your first instinct is likely the one that you should stick with. It is all too easy to allow your brain to talk you out of what would have been the correct answer.

You can guess - You won't suffer any penalties for guessing any questions. If you are running low on time to finish the exam, you might want to resort to taking some educated guesses at the questions that you simply aren't certain about. Usually, you have a one-in-four chance of getting it right. Which is higher than if you leave the question blank.

Don't rush - There are no bonus points awarded for finishing first. You should take all of the time that you are allowed to review the questions and be confident with the answers you have submitted.
These are all good exam strategies no matter what kind you're ‌faced with. Keep these strategies in your back pocket to make sure you perform your best on the exam.
Applying for the contractor license
The last step to take when getting your contractor's license is to apply for it. After you have received a passing score on your contractor's exam and met all other requirements, you can apply to receive the license. Most states charge a small fee for the application, and there may be other requirements that you must meet as well. Keep that in mind as you begin the process of applying to receive your license. The fees are kept low so that they hopefully won't be too much of a burden for applicants but be prepared to take care of this.
License Requirements by State
To get a better idea of some of the licensing requirements for different areas, let's take a look at a sampling of what different states require:
At least 18 years of age
Proof of a credit score of 660 or higher
Provide proof of liability and workers' compensation insurance
Pass the Florida State Construction Examination
Scan an electronic fingerprint
No state mandated requirements for anyone to hold a license to work as a general contractor
21 years of age or older
At least two years of experience as a residential contractor
Liability insurance with coverage of $300,000 or more per incident
A passing score on the Georgia Residential Basic Trades exam and the Georgia state Business Law exam
Need either a $25,000 line or letter of credit, at least a net worth of $25,000 or a bank credit reference showing at least 24 months of history.
A typed, signed and notarized General Contractor Registration Form
A business bank account with a balance of at least $25,000 and a letter from the bank referencing the bank balance over the last 12 months.
A $330 payment for a background check
A state-issued identification card
Proof of residence (utility bills accepted)
Social Security card
Be at least 18 years of age
Complete a 60-hour training course
Provide proof of a Michigan driver's license
Earn a passing score on the residential contractor or maintenance and alteration contractor test
Pay the $195 licensing fee
Complete 16-hour pre-training course
Pass the contractor's licensing exam
Obtain state-recognized worker's compensation insurance
Register as an LLC or corporation
Show proof of liability insurance
Show adequate proof of experience
Provide photo identification
Pay the application and licensing fees
Register the business with the Kansas Secretary of State
Some states are extremely strict about their requirements, and others have virtually no requirements at all. Additionally, some states like Colorado, have requirements at the state level for electrical and hvac contractors licensing, but general contractors are licensed at the municipal level. This is why you must do your research and determine exactly what your license application process will be.
Maintaining and Renewing Your Contractor License
Getting your contractor's license is a great achievement, but it doesn't end there. You should also pay attention to the renewal process for your contractor's license as well. There are a few things that are likely to be asked of you, including:
Complete the renewal application
Pay the associated renewal fees
Provide an updated financial statement
Provide proof of your current registration within the state
All of these steps are part of the renewal process, which must be completed. Stay on top of this so that your license is always up to date and meeting legislative requirements.
Take Care of These Requirements and Grow Your Business
You should do everything within your power to ensure that you have the contractor license you need and can focus on growing your contractor business. For further information on how to grow your business check out our Ready, Set, Scale blog.