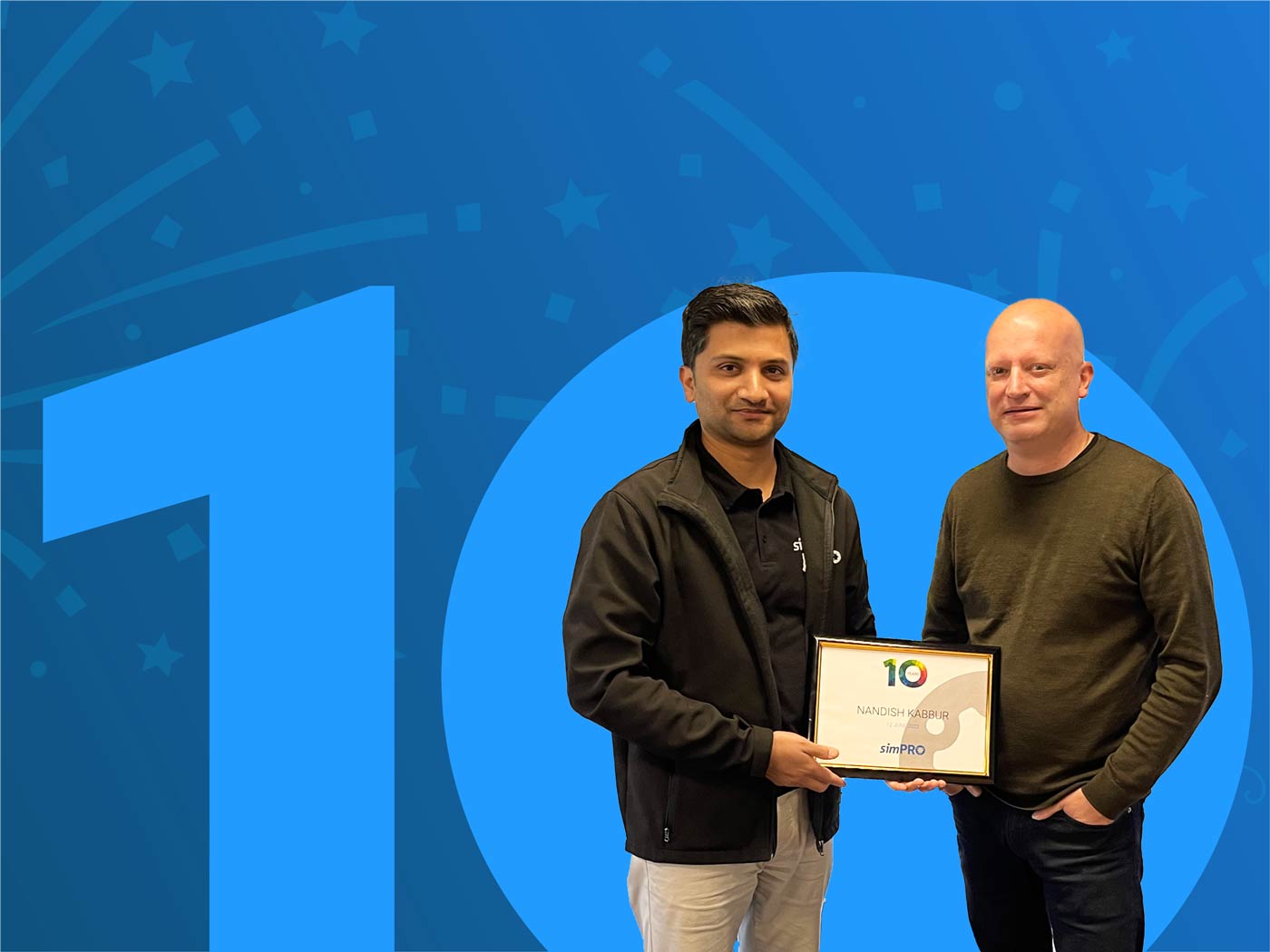 Nandish Kabbur, vice president of IT and systems, is celebrating his ten year anniversary with Simpro. Having started as a customer support officer, Kabbur carved out his career as an IT professional, taking on responsibility for office work stations, hardware and many other technical areas of the business. So what makes Simpro the right fit? Read on to find out!
Q. Do you have a favourite story from your decade with Simpro?
A. The migration of client premise hosted services to the Simpro cloud and the decision to move to a fully managed cloud hosted solution was the biggest turning point for the business to have grown into what it is today.
Q. Tell us a little bit about your journey at Simpro (ie. different roles that have led you to your current position)
A. I joined Simpro as a customer support officer. I spent five months in the role before I was offered the opportunity to become an IT administrator where I was responsible for purchasing IT hardware, setting up workstations, configuring and dispatching servers for onsite hosting, maintaining office equipment and also providing help desk support. I was also the gatekeeper for inbound tickets to the development team before they were investigated by software developers. After five and a half years in the role, I became part of the infrastructure team (now the cloud services team) where I helped with management, maintenance and monitoring of Simpro cloud infrastructure. After about a year, I was promoted to head of IT and systems and became responsible for the operations of IT and systems globally. My role and title recently changed to vice president of IT and systems.
Q. What is one thing that has changed the most during your time here?
A. The size and scale of operation of the business. There were about 35-40 people when I started in 2012. Today, we are close to 520 and are continuing to grow at a rapid pace.
Q. What is the best "work perk" at Simpro?
A. The flexibility. It's existed ever since I joined Simpro, and made even better with Flex4. No strict start and end of the day, going to appointments, caring for dependents, working remotely/from home, school runs - it all just makes managing life easier.
Q. Ten years is a great milestone. How do you feel about reaching this anniversary?
A. Time has flown! Taking a moment to look back and think about the time I've dedicated working for Simpro I find it hard to believe that I've spent ten years of my life here. But this has been possible purely because I enjoy working here. I genuinely appreciate the friendly environment and cultural diversity at Simpro.
Q. What piece of advice has helped you the most over your ten years?
A. "Everything gets better with experience" and so it has!