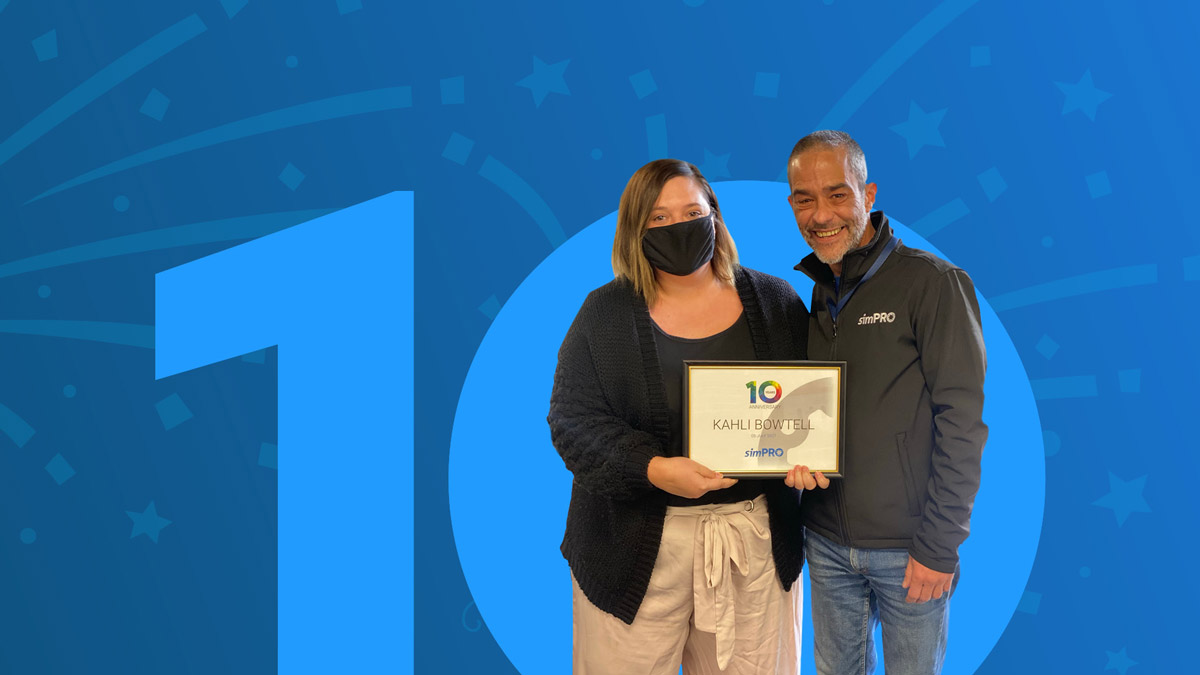 Throughout the past ten years Kahli Bowtell has been an integral part of various teams at Simpro. From her first role in Reception, to her current position in Custom Solutions, Kahli has brought, and continues to bring, energy and enthusiasm to everything she does at Simpro.
We caught up with Kahli to chat about her ten years at Simpro, what she has learned along the way and some of her favorite memories.
Your job title is Solutions Architect; what is your day-to-day like at Simpro?
"I assist customers all around the world with any and all types of customization requests.
"These can be things like special forms or reports or bigger projects like import utilities or call center modules. Every day I can be working on something different.
"I also look after our internal system, used by our employees as well as our biggest customer in both Australia and New Zealand. It definitely keeps me busy!"
Tell us a little bit about your journey at Simpro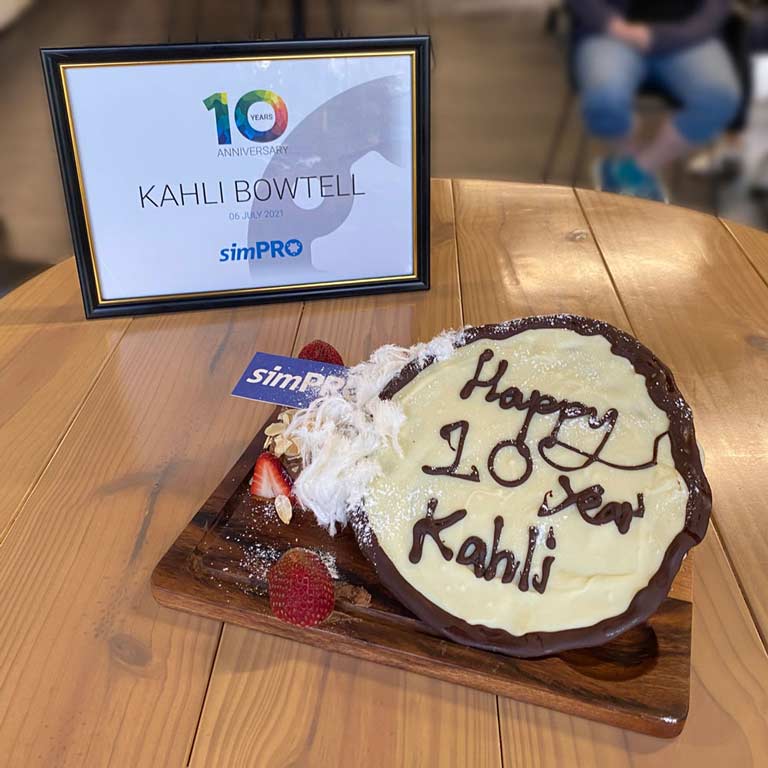 "I've had so many different roles in this business, it's crazy. I started out covering Reception for a month while our receptionist at the time was traveling around Europe. I then moved into Support and helped to manage our first-ever eForms rollout. Then, I moved to Projects and helped customers migrate from Version 10 to Version 11 of the software.
"After that I became a Project Administrator, assisting our Project Manager at the time with all types of big projects.
"It was then announced that we were opening an office based in the US and I put my hand up to assist with that venture. This took me into the world of the US Country Coordinator. After we became slightly more established in the US, I ended up moving there for just under 18 months to help the newly formed team with anything they needed.
"I then came back to Australia and the role I have now in the Custom Solutions team.
"All of these roles have led me to work in nearly every department at Simpro including Admin, Projects, Sales, Training, HR, Accounts and now in Development."
Do you have a favorite story from your decade with Simpro?
"There are way too many to count.
"I've had the most incredible experience here. I know most people will think my time in the US was my favorite part. But, I think the incredible people I've had the pleasure to meet, befriend, be mentored by and have as lifelong friends from all around the world because of this company, is my favorite story."
What is one thing that has changed the most during your time here?
"I think, myself. I'm definitely not the same person I was when I was 20, wandering into the Archerfield office to start my first day."
What is the best 'work perk' at Simpro?
"The best perk was the opportunity to be able to help open a new office in the US. I was so blessed to have that opportunity and I think it really helped me grow.
"Free lunch and cake is a super close second!"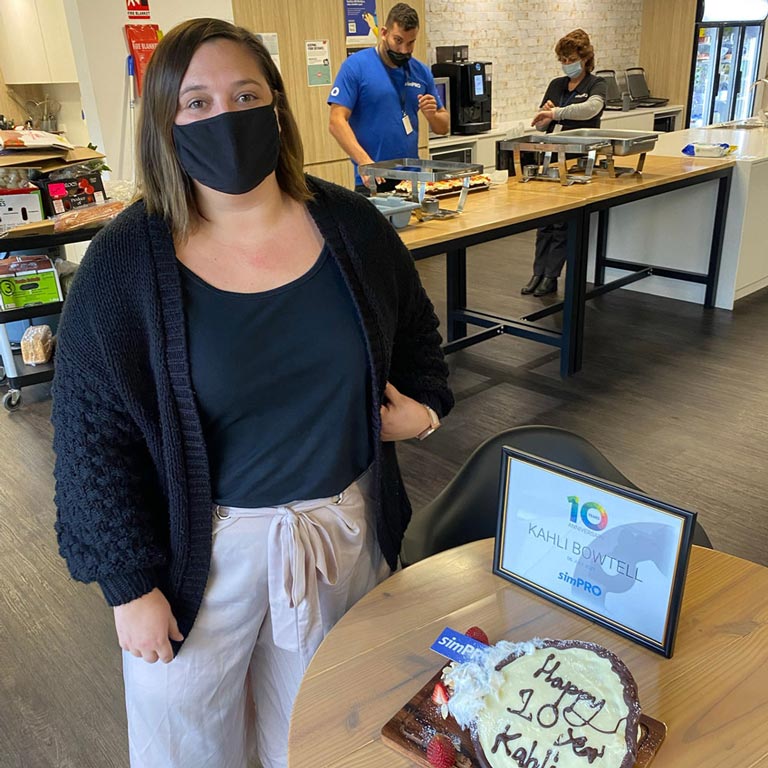 Ten years is a great milestone. How do you feel about reaching this anniversary?
"I remember thinking when I first started here, that when it would be my ten year anniversary, I'd be a week and a half from turning 31. And I just thought to myself, 'hell no, I could never be that old!'. Well guess what, I am. I'm so proud of myself for sticking it out. It's been the most rewarding and amazing journey of my life. I'll forever be grateful."
What piece of advice has helped you the most over your 10 years?
"I think it would be, 'You've got this, Kahli!'. I'm sure people working at Simpro will know who these words came from. It's completely self-explanatory and has kept me going through some of the harder times."
Interested in furthering your career with Simpro? Visit our careers page for available opportunities.