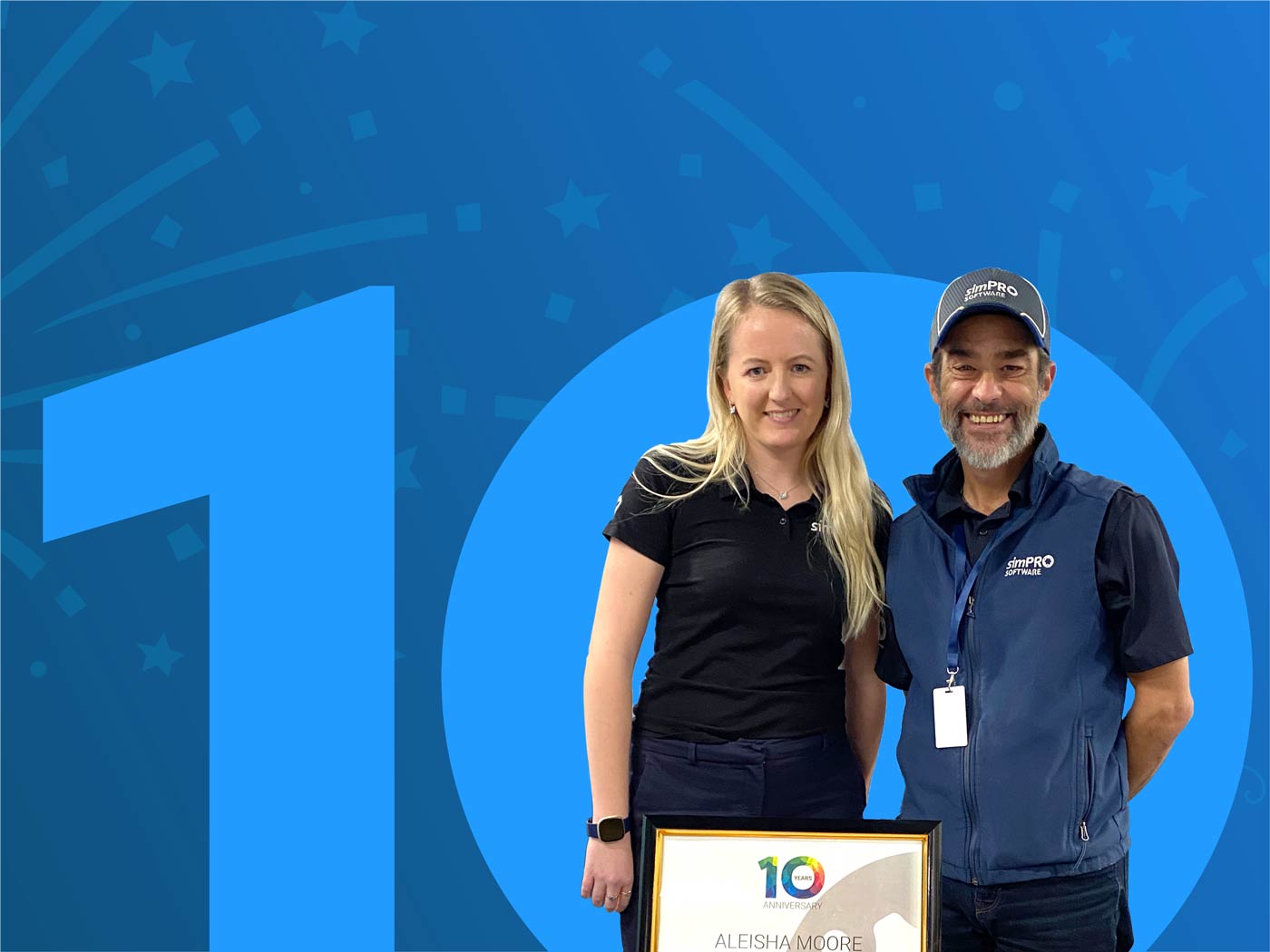 The past 10 years have been busy for Simpro's talented solutions architect, Aleisha Moore. In 2012 Aleisha began her journey with the company as a receptionist. Since then she has grown her career, gaining new skills and experience through four other roles at Simpro.
We sat down with Aleisha to chat about her incredible achievement and career at Simpro.
Q. Do you have a favorite story from your decade with Simpro?
A. I have many stories to tell about my time here at Simpro. But one of my favorite stories comes from my time working in our support team. I had the opportunity to work with one of our clients to cover maternity leave for eight weeks. This incredible opportunity allowed me to see how our clients utilize our software every day. Learning this was invaluable to me.
At the time I was also tasked by a customer to consult with them on ways to improve their processes and utilize existing functionality that they had not yet used. This resulted in the customer growing and expanding their business.
What I took away from this opportunity was that it enabled me to share what I was learning with our support team members to help them grow. It also allowed me to bring this knowledge to other roles that I've had at Simpro.
Q. Tell us a little bit about your journey at Simpro
A. I first started my journey at Simpro in 2012 as a receptionist. My role varied from organizing all travel for our CEO, the rest of the executive team, and our training and sales teams, to assisting various teams including finance and human resources with tasks and organizing events.
A year later I was offered a position in our customer support team. Joining this team laid the foundations of my career. It was a wonderful opportunity to learn about our customers, their industries and how they utilize our product daily.
Two and a half years later, I joined the training team in a newly created role as an inside trainer. The role quickly evolved and I was fortunate enough to train our customers in person both locally and interstate, as well as online from the office.
After 18 months in the training role, I was offered a role in our learning and development team. I worked with the team to create help guide articles and videos. I was also fortunate to facilitate many of our employee inductions for new staff, which I enjoyed.
Fast forward 18 months and I was asked if I would be interested in joining the custom solutions team. This opportunity has been my favorite to date because every day is different. As a team we design and create customized workflow solutions to unique challenges our customers face. It is also amazing to be able to learn more about the technical side of our product from my manager and our incredible team.
Q. What is one thing that has changed the most during your time here?
A. The growth of the company has been one of the biggest changes for me. When I started there were about 50 people based in our head office (Queensland, Australia). Now we have more than 450 staff that are spread across the globe. It is very exciting to see this growth and expansion.
The other biggest change is how much the product has evolved. Our product is very different from what it was when I started with the company 10 years ago.
Q. What is the best "work perk" at Simpro?
A. For me, the best work perk is getting to work with so many amazing people from a wide range of cultures and backgrounds. I enjoy hearing everyone's journeys to Simpro and, most of all, seeing individuals grow and move through different roles in their careers.
Q. Ten years is a great milestone. How do you feel about reaching this anniversary?
A. I am incredibly honored to have reached this great milestone. As I reflect on my time at Simpro I feel very nostalgic and grateful for those who have helped me to grow both professionally and personally throughout each of my roles.
Q. What piece of advice has helped you the most over your 10 years?
There are two pieces of advice from previous managers that have helped shape my approach to learning and performing everyday tasks. They go hand in hand with one another
Always be curious; there is no such thing as a stupid question
Always ask the "how" and the "why" because knowing the answers to those two questions will often help you to better remember in the long run what you have just learned
Interested in furthering your career with Simpro? Visit our careers page for available opportunities.