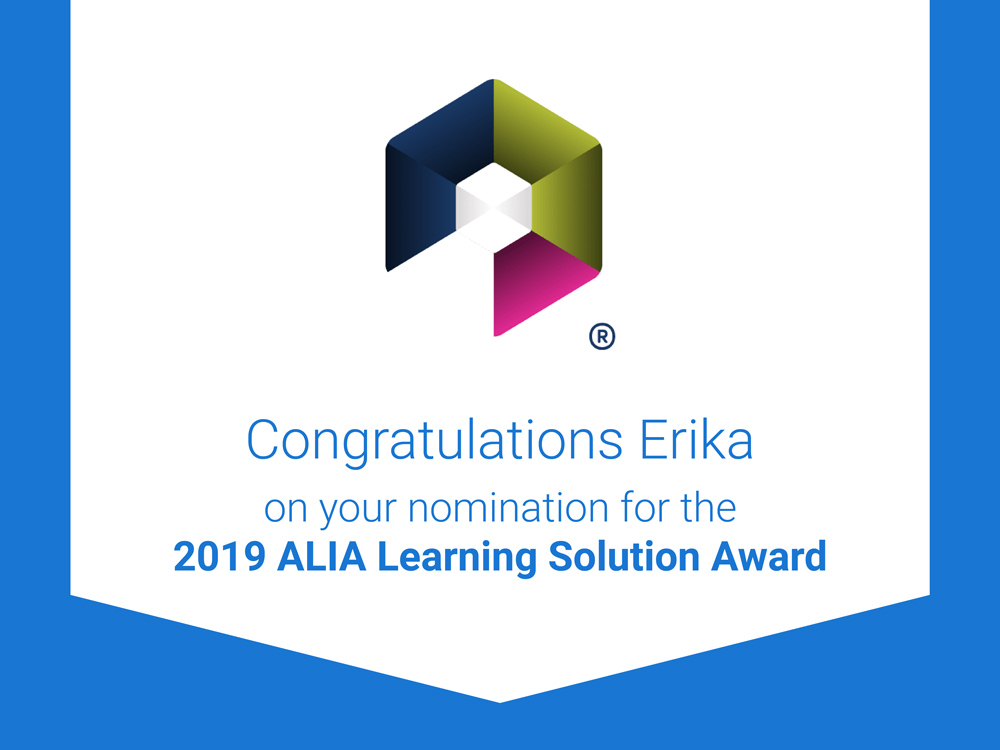 Simpro's Head of Implementation, Erika Entz, has been nominated for a 2019 Australian Learning Institute Award (ALIAs). We sat down with Erika to find out more about her nomination and the learning solution that has made her a finalist.
Congratulations on becoming a finalist for the Learning Solution Award in the 2019 ALIAs! Can you tell us about the solution you were nominated for?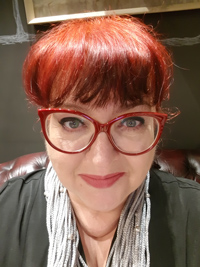 Thank you! I am a finalist in the 'Learning Solution' category.

As I have been working in Learning and Development for over a decade now, I wanted to put my knowledge to the test and see how I measured up against other learning professionals.

For the nomination, I put forward the work I have been doing regarding onboarding our customers.

More specifically, the work I have done around creating a competency framework and developing our Implementation Framework, to providing consistency globally to our customers as they implement our products into their business.
So, how is the framework you created directly benefiting Simpro customers?
The key benefit to our customers is to make our implementations more effective and relevant to them.

The new boarding program for our Implementation Consultants also ensures that they are on-boarded with a consistent approach. It's a blended onboarding program, after all, these are the experts who supporting our customers to adopt the software.

Lots of work and dedication is required by everyone to get through the onboarding process because Simpro is a comprehensive software, but the results we are seeing are absolutely fantastic.

Customers are managing the change within their teams more easily, and the resources developed by our Learning & Development team (L&D) mean we can facilitate continuous learning.

Even when IC's (Implementation Consultants) have finished training customers, the framework is assisting them as they continue to work through adopting the software into their entire business.

Once a team is onboarded, we start to see amazing changes happening throughout a customer's business. They have more transparency in their business, which then helps them to make more timely and better business decisions. It also encourages growth and is helping them be more resilient to industry changes.
That sounds incredible. To develop such a complex tool, you must have been with Simpro for awhile?
This is my eighth role in my Simpro career. I joined the company in 2009!

I am now the Head of Implementation and my role is to develop and adapt global strategy, roll-out and monitor learning effectiveness and adjust programs as needed.

A lot of education and support is also part of the role, which allows me to share my decade of business experience of SaaS business and trade service industries.
What would you say is the best part of your role at Simpro?
The best part of any of my roles at Simpro has been to make a real difference. For our business, the services we offer and most importantly our customers.

I have always been very passionate about people and process development. My role allows me to improve how we onboard implementation consultants and how we onboard our customers.

In both cases, it is critical that we continuously improve consistency, quality and efficiency. That's the reason I wake up in the morning and come to work. To see the positive change we make.
Becoming a finalist must make you feel pretty proud of everything you've achieved.
I am very honoured that I have been selected. There are some amazing professionals in the finalist list and no doubt within all the nominees.

When something like this happens it is certainly a point when you stop and evaluate. This recognition makes it feel like all the hard work is paying off. It is also a great acknowledgement and confirmation that I am on the right track with all the work I do.
Before we finish, this month we are focusing on onboarding and continuous learning. What is one piece of advice that you would give to our customers using Simpro when it comes to onboarding or professional development for staff?
Never stop learning! Simpro has so many world-class resources, from microlearning to extensive how-to information, like:

And our L&D team is constantly updating and creating new tools for our customers.

Also, remember that we have great Implementation and Customer Success Teams. They are there to support our customers in their goals and business expansion.

And lastly... try nominating someone in your team to review our releases as they are made available.

So many new features are overlooked (remember we have improvements and new features that are put out every two weeks!) because release notes aren't reviewed.

If you need more help, just get in touch and our Implementation Consultants and Customer Success Team members will support you.
Are you interested in learning how Simpro can help your business?