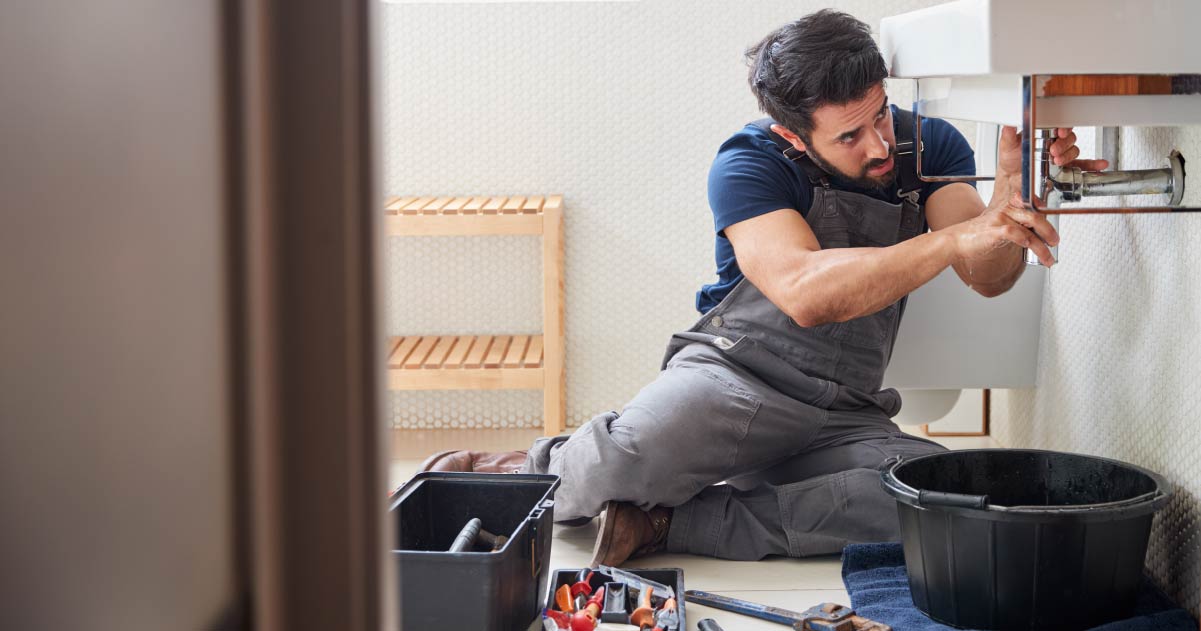 How many times have you been chasing up overdue invoices in the past few months? Are your accounts team scrambling through spreadsheets and paper documents every month to determine which customers are up to date with their payments? In order for your plumbing business to remain profitable, you've got to have a solid invoicing process and be estimating strategically.
Plumbing invoicing is no different from many other field services; your field team scopes out the work for a customer, an estimate is drawn up with a date decided upon with the customer on when to carry out work. Once the work is complete, an invoice is issued to the customer so they can provide payment. If that process isn't smooth sailing, you'll start to encounter cash flow problems, and it will affect your bottom line.
Understanding Plumbing Invoicing
So how can you make sure you're not harming your business with a poor plumbing invoicing strategy? An invoice is an important document within any business. It informs the customer of the final amount they need to pay and also details itemized information about the materials used,as well as any payment terms and conditions.
Whether you're using a plumbing invoicing template or you're working from scratch, an invoice needs to be clear, precise and easy to understand.
There are key elements to an invoice you want to ensure you're not skipping over. You always want to include an itemized parts and labor list, the customer's address and your business information (including relevant business registration and tax requirements), an invoice number, final costs and available payment methods. That's the basic model. There are other variables you may want to consider, including photos of the work completed and due dates for payment if necessary.
Best Tools for Plumbing Invoicing and Estimating
Technology is great, it provides us the means to get things done faster and with more efficiency. There are so many different types of programs and software available to help with your plumbing estimating and invoicing, it can feel like an overwhelming task. Here are some of the top software options for your business.
Simpro is a comprehensive cloud-based platform that helps you manage jobs from start to finish. Easily break down labor and material costs and quickly create, update and send quotes for your plumbing work. You can create your own collection of plumbing invoice templates with customizable inputs so your field staff can quickly access them from within the mobile app. Giving them the flexibility to send invoices as soon as the work is complete. Flexible payment options mean you're able to take payments from the office by giving the customer access to the Customer Portal or out in the field with a payment integration provider.
ServiceTitan is another popular option for plumbing businesses that need invoicing software. The platform offers a range of features including online booking, dispatching, and real-time communication with clients. ServiceTitan also provides robust reporting and analytics, giving plumbers deep insight into their business performance.
Jobber is a great choice for plumbing businesses looking for an invoicing solution. The software offers features such as online booking, scheduling, and invoicing that make it easy for plumbers to manage their business from anywhere. Jobber also offers a mobile app that allows plumbers to manage their business on the go, making it a great option for those who need to work in the field.
Effective Tips for Accurate Plumbing Invoicing
There are lots of different ways that you can create an accurate invoicing for your plumbing services and be as efficient as possible in the process. These include creating a standard plumbing invoice template, adapting to any changes in the scope of work and keeping customer preferences on file. Let's take a look at these.
Don't be afraid of using invoice templates. You're going to be invoicing a lot of customers frequently. Make the process easier for your field staff and accounts team by creating a plumbing invoice template (or finding a free plumbing invoice template). This way, they can generate them a lot faster and get payments through the door quicker. You can also ensure critical information like invoice date, sales tax, details of the plumbing job as well as when the payment is due are always included. Why reinvent the wheel when you can just slightly tweak it?
Ensure any changes to the scope of work are detailed swiftly. If the customer requests additional work that's going to affect the estimate and final invoice, make sure it's detailed in writing as soon as possible. For a truly effective plumbing estimating and invoicing process, you need to be able to adapt easily.
Keep customer preferences kept on file. Not only does this speed up the payment process for the customer, but it lets them know you value their time and custom. Keep a record of how each customer prefers to pay, preferred contact methods and recent work history, as it builds trust and credibility for your business. You can get invoices issued quicker as well, without the hassle of having to call them first to check how they'd like to receive them.
Don't be a scatterbrain. You need to keep track of which invoices are for which customer, what's been paid and what's outstanding. It's easy enough to get in a muddle with the number of estimates and invoices being raised on a daily basis. Using software to have one central database where you can see your quotes, jobs and invoices will help immensely.
Keep a record of how each customer prefers to pay, preferred contact methods and recent work history, as it builds trust and credibility for your business. You can get invoices issued quicker as well, without the hassle of having to call them first to check how they'd like to receive them.
Frequently Asked Questions
Whether you're just starting your own plumbing business or you're a seasoned professional. There are always going to be questions on your mind when it comes to plumbing invoicing. Let's take a look at some frequently asked questions within the industry.
What information should be included in a plumbing invoice?
If you think about all of the information your customers need to know in order to pay their invoice, that's what you'll want to include on your invoice. This means things such as:
Your plumbing company contact information, including email address and phone numbers
Any required business registration or taxation information
An itemized list of materials and labor
Street address of where the work was done
Invoice date
The date the work order was completed
The total amount due
The payment methods available
Due date for payment
Payment and billing terms
A signature area where you and the customer can sign to show both parties are happy with the work carried out
How often should I invoice my clients?
It's most common in business to send invoices on a monthly basis. However, within the plumbing industry, it works a little differently. If you're doing residential work, then it's likely an invoice will be issued once the work has been completed, depending on the project size.
If you're completing commercial work, it may be a project that's split into different stages. In which case, you may invoice after stage one is complete. It's also easier to track payments for larger commercial projects if you collect in stages.
How can I track my invoices and payments?
With a comprehensive plumbing invoicing software package, you can track invoices and payments simultaneously. Rather than relying on paper spreadsheets and rummaging through paper documents, it helps streamline your processes and provides further visibility into how your jobs are progressing. You can run and schedule reports around your invoicing and payments, giving you further insight into what's outstanding and what's paid.
Is it important to provide itemized invoices?
Yes. It shows the customer what they're paying for as well as the materials used for the work. It builds trust between you and your customer, as there's no smoke and mirrors between the estimation and the final costs.
Summary
Once you've nailed down your plumbing estimating and invoicing process, you can be safe in the knowledge that you're bringing in revenue to your business. In addition to that, you want to be charging a reasonable amount for the services you're providing.