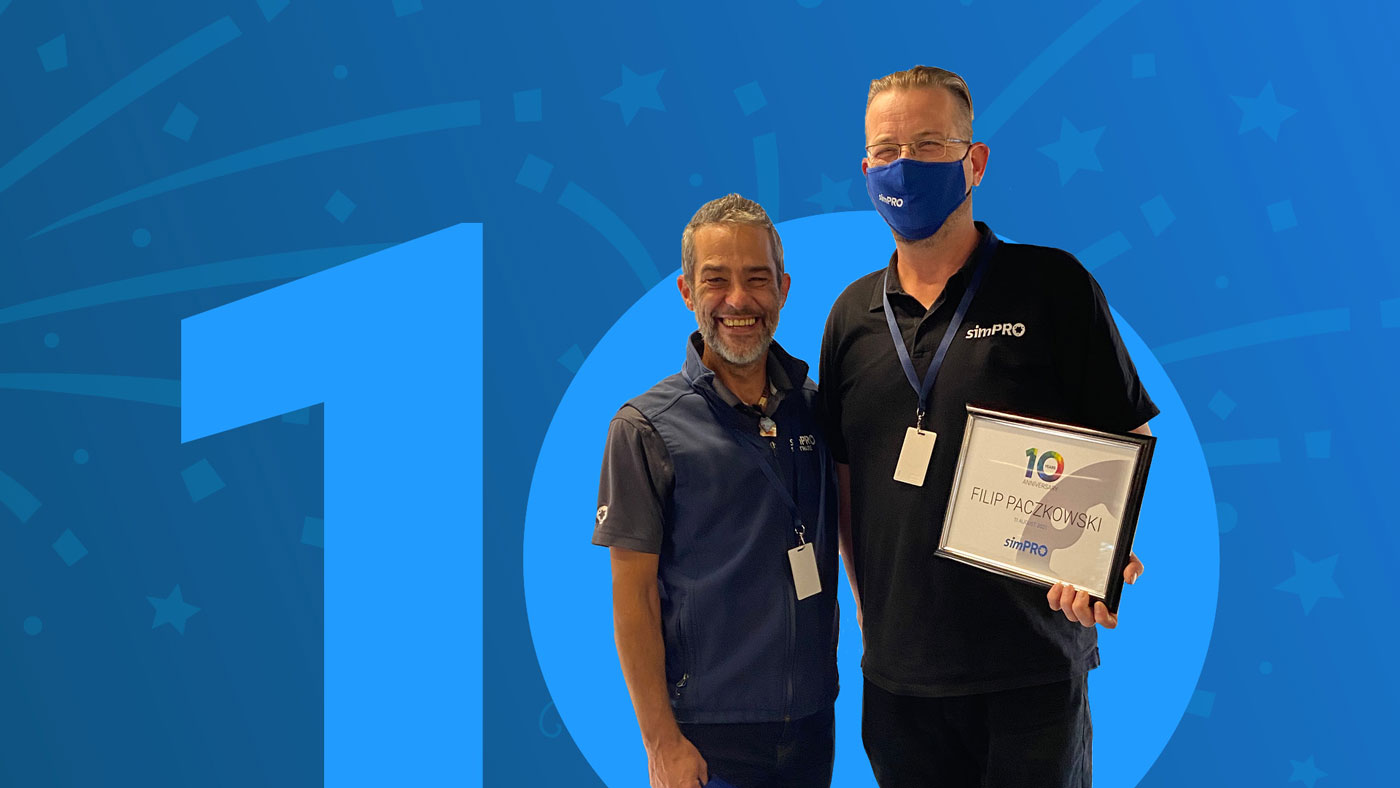 Ten years ago Fil Paczkowski joined Simpro as a Technical Writer. After starting with the company, he discovered he had a passion for supporting Simpro customers in their journey to get the most out of the software. Today, as a Product Owner, Fil remains driven by this passion and spends his work days helping build the best experience for Simpro customers.
To celebrate this milestone, we chatted with Fil about his time at Simpro.
Q. Your job title is Product Owner; what is your day-to-day like at Simpro?
A. Being a Product Owner is great - I get to come up with solutions to our customers' problems. This can take many forms; from direct interviews to surveys and researching in a variety of other ways. Whatever form, we're always trying to solve a problem.
I work closely with an amazing team of UI/UX designers, product specialists, developers and quality assurance testers. I also interact with a huge variety of people in different parts of the business to try and come up with the best solutions for our customers.
Q. Tell us a little bit about your journey at Simpro.
A. When I first started as a technical writer I was tasked with creating the Help Guide for V11 (Version 11) of Simpro. During that time I learned a lot about the product, what it was capable of and how it could benefit the businesses using it.
I was then offered a role as a Solutions Architect where I helped solve customer problems on a one-to-one basis via our customization process. Although satisfying, I wanted to help even more customers so, when I was offered the role of Product Owner which came with the opportunity to help 120,000 users, I jumped at the chance.
Q. Do you have a favorite story from your decade with Simpro?
A. Ten years is a long time to accumulate stories, but one of my favourites was when one of my colleagues went on annual leave.
I purchased about two dozen rolls of aluminium foil and convinced a heap of people (including his team) to wrap his entire desk, everything on it, and the walls around it, with foil. We also hung some strobe lights and tinsel from the roof. When he came back, the look on his face was priceless.
Q. What is one thing that has changed the most during your time here?
A. The staff. When I started, there were about 40 people based in an office in Archerfield (Queensland, Australia). Now we have over 350 and are spread across the globe. That's been a massive change.
Q. What is the best 'work perk' at Simpro?
A. The best perk would be working with all the amazing people. We have a huge range of diversity and hearing how we all came to be right here, right now, is very cool.
Working for a technology company is great because we get to see a lot of up and coming technology.
Q. Ten years is a significant milestone. How do you feel about reaching this anniversary?
A. It's been an amazing journey. I feel I've achieved so much with support from all the people I've worked with over that time. I feel honored to have worked with so many amazingly talented people.
Q. What piece of advice has helped you the most over your ten years?
A. Everyone has an opinion and they usually see things from a different perspective. There's no harm in listening to what people have to say regardless of whether you agree with it or not. Listen, and I mean really listen, because sometimes sparks of genius hide in plain sight.
Interested in furthering your career with Simpro? Visit our careers page for available opportunities.