Find out what defines customer retention
Learn how to calculate customer retention rate
Discover the importance of customer retention strategies in business
Check out handy hints and tips to help with your strategy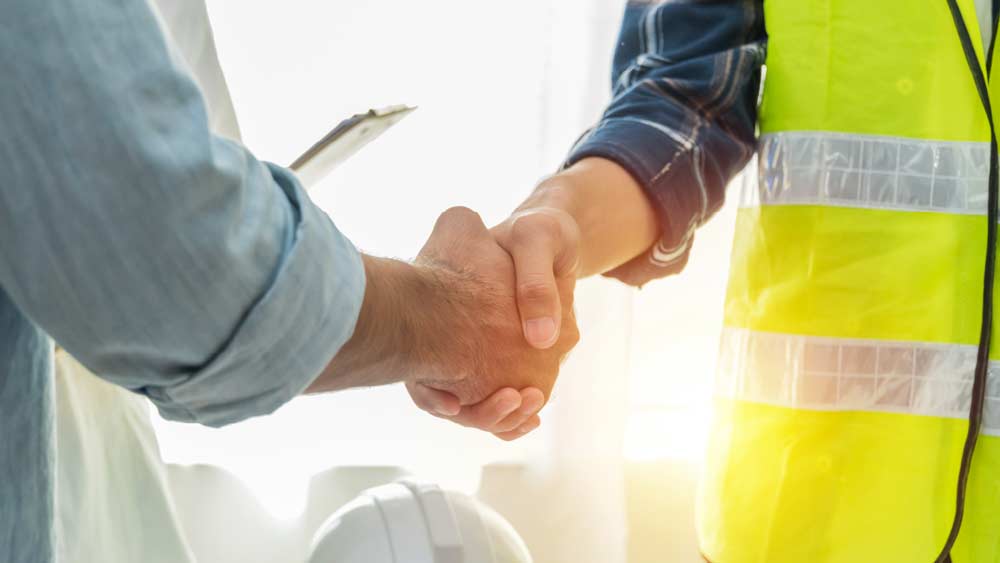 Driving customer loyalty is important for any business, whether you're just starting out or in an established market. At the end of the day, they're the ones who will drive your growth and profits. So building effective customer retention strategies is vital. We'll be taking a look at how to calculate customer retention rate, why it's important and how to build upon that customer experience. But first, what is customer retention?
What Is Customer Retention?
Customer retention is the process of encouraging customers to remain loyal to your business and return for repeat business. Retention strategies typically involve providing excellent and consistent customer service, delivering on your brand promise, offering competitive pricing and developing loyalty programs. There are different types of customer retention strategies that will focus on different incentives, which we'll be discussing further on in the blog.
Customer Retention vs. Customer Acquisition
These two areas of business are very closely related, and both should have a primary focus. Much like the chicken and ‌egg dilemma, you can't have one without the other.
Where customer retention focuses on how to bring back repeat business from existing customers, customer acquisition is the strategy behind how you acquire new customers. Typically, customer retention requires fewer resources than customer acquisition – making it a more cost-effective option. But that doesn't mean you should sweep customer acquisition under the rug. Customer acquisition strategies include marketing campaigns that attract organic search engine traffic, and paid advertising campaigns targeting potential customers from specific demographics with tailored messaging. Additionally, expanding upon your services is a great way to extend your reach locally, encouraging word-of-mouth and encouraging new business.
Both strategies are essential for sustained business growth as they help create long-term relationships with clients resulting in increased return on investment (ROI) over time.
How to Calculate Customer Retention Rate
To analyze your customer retention strategies and their success, you need to know the customer retention rate formula. This looks like the following: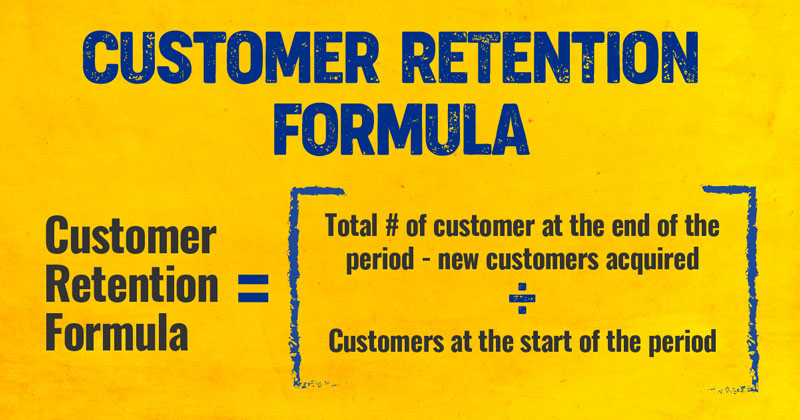 You need to ensure you have the correct data so you're able to get an accurate figure. For example, if you wanted to analyze customer retention for a specific month, you can do the following:

                       New customers acquired
                                 ↓
Customer retention rate = 900 - 200 = 700/1000 x 100 = 70%
                           ↑                ↑
        Total number of customers      Customers at the start
        at the end of the month        of the time period

So your customer retention rate for the example above would be 70%. You're able to gain valuable insight into your customer retention strategies using the customer retention rate formula. However, there are limitations to consider. It only measures whether or not a customer returns to make another purchase. It doesn't account for factors such as how many times they return or how much they spend each time.
Despite this limitation, tracking customer retention rate over time can help you identify areas where you need to improve and better understand what drives business growth. In turn, aiding you with making more strategic and informed decisions.
Why Does Customer Retention Matter?
There are a number of reasons why customer retention strategies are important. Increasing customer loyalty helps build a strong and engaged customer base. It's also a lot more cost-effective than acquiring new customers. By focusing on the customer journey and making it a smooth process, this is an easy, sure fire way to entice customers back. Excellent customer experiences lead to increased word-of-mouth referrals, which are one of the most powerful marketing tools available to any business. And high customer retention rates can be a key indicator of success and ultimately help boost a business's bottom line. How many times have you asked for recommendations for a specific service or product from a friend?
As a customer, we all remember when we've had an exceptionally good service or a positive experience somewhere, right? That's how you want to be thinking about your business. A high customer retention rate means that your customers trust your business to deliver on what you provide as a service, and are more likely to visit again. Which in turn, drives profits and increases growth.
By mastering how to retain existing customers, you can increase your bottom line while creating loyal customers that will stick around for years to come.
How to Create Exceptional Customer Experiences
If you want your business to excel within customer service, you need to create an exceptional experience for your customers. That's a no brainer. So how do you do that? A good place to start is by building trust with your customers, delivering consistently high-quality service and remaining transparent with any communication. Let's take a look at a few areas you should focus on.
Create a Strong Onboarding Experience
When your customers first request a service or repair from your business, you want them to have a lasting impression. Make sure the process is as smooth and stress-free as possible for your customer. That means ensuring staff know where they need to be and when, any information required from the customer is captured in order to carry out the work and keeping communication lines open.
Establishing Clear Customer Retention Goals
Your customer retention strategies will aid the customer experience. It's up to you to decide which parts are working, and which need a little adjustment. Ensure the goals you're setting are achievable and they focus on enhancing the customer experience. This helps build trust and consistency.
If you want your business to excel within customer service, you need to create an exceptional experience for your customers.
Personalize the Customer Journey
With your customers at the center of your retention strategy, how great would it be if you could personalize your communications. The good news is, you can. Send tailored emails to specific groups of customers that target their potential interests, based on services they've requested from you previously. It puts your business at the forefront of their minds. Another way to personalize communications is through social media. Customers want to see the humanity behind your business name. By adding a personal touch to the way you're answering queries on social media, it helps build familiarity, and breaks down the corporate barrier.
Build Trust From the Beginning
It's reported that around 80% of customers consider trust as a deciding factor before making a purchase. Trust always takes time to build, whatever the type of relationship. And it's incredibly important for your customers to be able to trust you as a business. Consider the values you want to uphold and consistently stay true to those, as well as staying transparent with your customers about any changes or unexpected delays. Make sure you're delivering on your brand's promises as well. This all contributes toward building trust.
By focusing on these key points, you create an elevated customer experience and drive growth by increasing loyalty among existing customers and gaining new ones.
7 Effective Customer Retention Strategies
As well as focusing on the customer experience, there are specific tips and tricks when it comes to building customer retention strategies. This includes things such as leveraging personalization, offering omnichannel support and creating content that aims to educate. Let's take a look at these in a little more detail.
Leverage Personalization
Using personalization tactics that tailor to individual customers can significantly increase customer loyalty and engagement. Use personalization in emails, website content, product recommendations and social content. Customers love to feel wanted and just like we mentioned above, it puts your business back in their line of vision when it otherwise may not have been. By taking the time to curate a personalized experience, you can create loyal customers who come back again and again.
Offer Omnichannel Support
With technology at our fingertips, no matter where you are (within reason) these days, customers expect quick responses. Whether it's regarding an update on where the plumber is for that leaky sink, or making an enquiry about pricing and services you offer. You want to make sure customers can reach out through multiple channels such as phone, email, live chat or social media. Ensure that customers always have access to help when they need it most - even if it's after hours! If no one is immediately available, the query can be prioritized the following morning.
Create Content That Educates
Fortunately there are a lot of different types of content you can create these days. From blog writing, to TikTok videos, to helpful industry hacks. The content world is your oyster. The most important thing to remember is that the content you produce needs to be informative and helpful to your audience. For example, you could do blog posts or video content that supports your services and shows customers how you can help them. This is a great way to keep customers engaged and encourage long-term investment in your business. Not only will this content provide helpful information about how your services work, but also give you an opportunity to showcase why customers should continue using your business over competitors.
Develop a Customer Loyalty Program
It's an age-old tactic when it comes to customer retention strategies, but is definitely effective in enticing customers back. Create a rewards system for repeat business; it could be in the form of a points system or discounts for your services. For example, if there's regular maintenance a customer requires, you could offer a discount for booking in bulk ahead of time. This type of marketing incentivizes repeat business on the basis that your customers are saving money using your services.
Create a Community Around Your Service
Building a community around your business not only fosters relationships between you and your customers, but also encourages others who may not be yet part of the family! Through various online engagement channels such as social media groups you can engage directly with customers while also introducing potential leads into the mix - thereby creating loyal fans who will stick with you!
Respond to Customer Support Queries Timely
How many times have you revisited a business when you've had zero response or a long delay from an enquiry? It could be as simple a question as "what are your opening hours?" or "do you charge by the hour?", but if you're left hanging. It's an instant turn-off. You need to treat your customers with the same care and courtesy you would expect to receive if the shoe was on the other foot. Make sure you respond to social posts and other enquiries quickly and efficiently. This lets customers know they are a priority and helps bring business in the door quicker. In addition, bringing more money into the business.
Maintain Excellent Customer Service
We've talked about this a lot. It's an important factor to remember that feeds into many of the tips we've discussed. Every interaction, from phone calls, to emails, to social posts, should be treated in a way that enhances the customer experience. Leaving a positive impression on every type of customer is vital; it's no difference whether they've been a customer for six months or six minutes. It builds trust between both parties, which in turn leads to higher levels of satisfaction for the customer.
Summary
Customer retention strategies don't have to be overly complicated, but it will take time to fine tune. Everything we've discussed in this blog will help you reach a place that aids business growth and promotes return visits from your customers. In turn, allowing profits to keep soaring. If you're looking for further hints and tips on how to elevate your customer service, we've got a guide for that too!