Discover each step for your customers from first touch, to repeat business
How can you implement digital marketing strategies like Search Engine Optimization (SEO), Pay Per Click (PPC) and more to reach potential customers?
What traditional marketing techniques are still effective at boosting HVAC leads?
Understand how you can leverage technology to enhance HVAC lead generation and management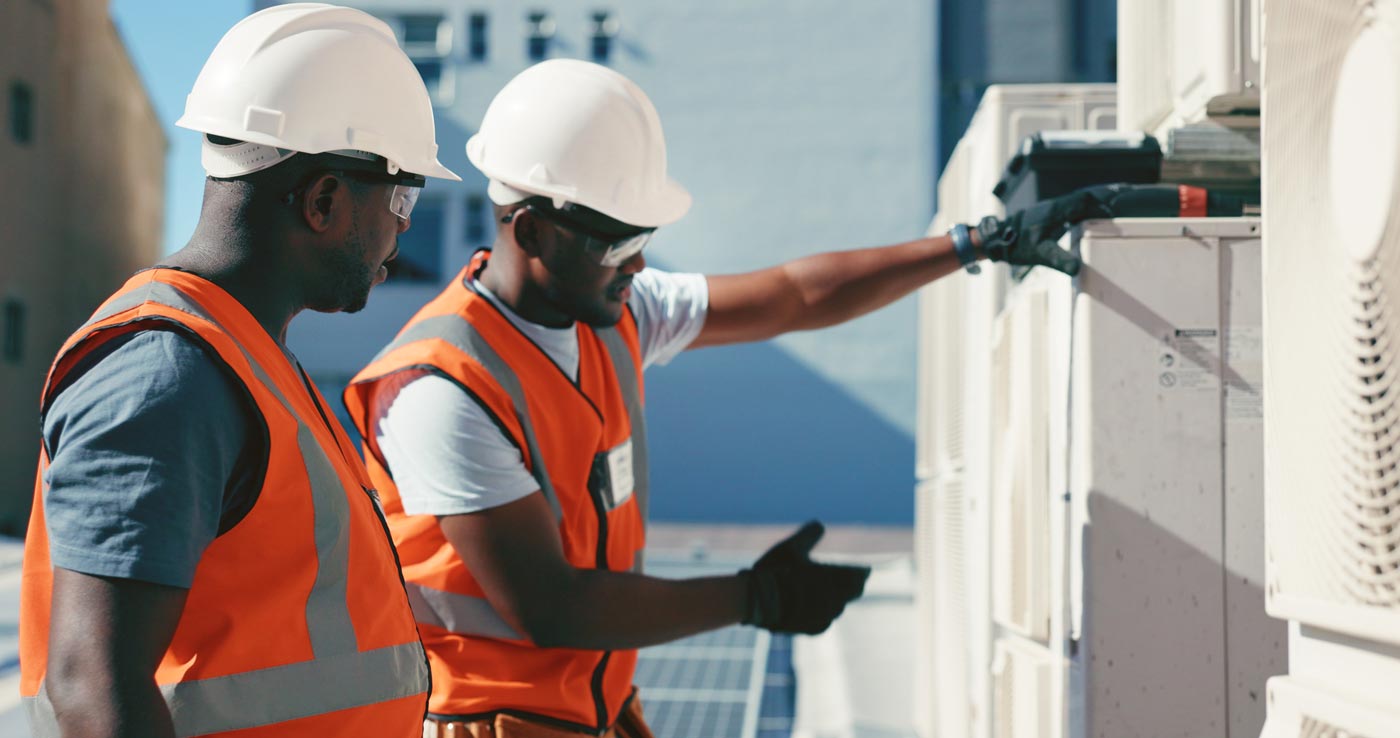 In the HVAC industry, growth depends on leads. Unlike retail and other industries, people don't call on their HVAC technician on a whim. They can't be inspired to need HVAC repair, replace an old unit, or build a new home. Instead, HVAC businesses must ensure that they are visible and available at the precise time that people are in need of their services. Your regulars may call you as much as twice a year, at the most frequent, but to grow and to increase in profitability, generating HVAC leads is vital.
How can your business generate more HVAC service leads? The best strategy is a combination of community engagement and locally-targeted digital marketing campaigns. We'll dive into the many tactics that an HVAC company can use, to create leads from those ready for HVAC services.
Understanding the HVAC Customer's Journey
The first step is to understand the unique customer journey of HVAC clients. HVAC services are based on need, which means that creating HVAC leads is rooted in just-in-time contractor marketing, visibility, and availability. The stages of the HVAC customer's journey can be connected to the questions they will ask.
Awareness
"What is wrong with my HVAC?" During the awareness phase, HVAC leads will ask questions about HVAC behavior. Wondering why they aren't getting cool air or why they hear a strange sound. Potential customers often don't know how serious the problem is, or even if it can be fixed with or without help.
Consideration
"What is the solution to my HVAC problem?" Customers have researched the issue and have a better understanding. During the consideration phase, they are looking for the best solution. Guides and comparisons are ideal.
Decision
"Who should I trust to help me, and how much will it cost?" During the decision phase, customers have not solved the issue and are looking for the best/closest/most skilled/most affordable HVAC technician to call.
Digital Marketing Strategies to Generate HVAC Leads
Now that you know what your leads are thinking, the next step is how to get HVAC leads through marketing strategies. Each stage of the buyer's journey, for modern residents, is typically conducted with online research. From looking up why their HVAC is malfunctioning to comparing local services, local digital marketing is a powerful tool that you should be using to your advantage. There are three useful strategies that you can implement when enacting digital marketing for your HVAC business.
MORE TIPS FOR HVAC MARKETING
WANT MORE IDEAS ON HOW TO MARKET YOUR HVAC BUSINESS?
READ MORE
Optimize your HVAC website for search engines
Local SEO on your website will help attract HVAC organic leads. An organic lead is someone who finds their way naturally to your website because you have content that they want to read. This is why HVAC brands benefit from both detailed service pages and an extensive blog sharing HVAC tips, guides, and expert advice. Anyone looking for why their HVAC is not working right or how to fix it can find their way to your blog.
Do SEO research, then weave your keywords organically into content pages that both convey expertise, and instill trust and confidence in your brand. In some cases, use your SEO research to inspire new pieces as you gain insight into the questions customers are asking.
Harness the power of social media
Social media helps boost both the visibility and credibility of your HVAC brand. Today, when customers are in the consideration phase, they research nearby businesses, and a social media presence helps you stand out. You can also enact organic SEO and local SEO tactics through community-based social media platforms like Facebook, or build some notoriety as a friendly expert on YouTube with the right content-platform pairings.
Utilize PPC advertising
Pay-per-click (PPC) is the most common type of paid advertising. It allows you to target and appear in searches for more competitive keywords and to make use of more sophisticated local targeting tools. PPC is primarily used through Google and social media platforms through sponsored results in search pages and feeds. PPC drives immediate results in HVAC lead generation, provided you have carefully researched and built a strong HVAC ad campaign.
Traditional Marketing Techniques Still Worth Your Time
Because HVAC companies are local brands, you will still benefit from some more traditional marketing techniques. Building connections to members of your community who may frequently need HVAC services, and increasing your trusted visibility will also increase your HVAC leads with a volume of service calls to inspire growth.
Local partnerships and networking
There are many local businesses, suppliers and residential services that would gladly partner with an HVAC brand. Property managers need a few HVAC teams on call to take care of their properties and tenants. Electricians may provide referrals when your skills are needed for a client. Builder-developers may call on you to install new units for an entire development if you build a network of business partnerships and positive connections.
Attend and host local workshops
You can also become a known brand in your community. Attending community events, speaking at conventions, and hosting local workshops are all great ways to boost your visibility and credibility as a local HVAC service and source of expertise.
The Role of Customer Reviews and Testimonials
Accumulating customer testimonials and inspiring positive reviews is a powerful tool when marketing your business, especially for getting HVAC contractor leads. People need to know they are calling a service that they can trust. While you can toot your own horn all day, it is the stories from other customers that provide the "social proof" needed to instill trust.
Customer reviews through platforms like Google, Angie and Yelp provide that proof. You can also publish customer testimonials on your website from online reviews and positive feedback from customers given directly to the business. Just be sure to get permission to share the words and identifying details about a customer before publishing.
Reviews are essential when customers are choosing which HVAC business to call during the decision-making process. To win your market share, broadcast the satisfaction of your customers.
AN ADVANCED CUSTOMER RELATIONSHIP MANAGEMENT (CRM) TOOL HELPS YOU IDENTIFY HIGH-QUALITY LEADS BASED ON CUSTOMER TRENDS; TRACK LEADS THAT YOU HAVE IDENTIFIED, AND NURTURE LEADS WHO ARE IN THE CONSIDERATION PHASE.
Leveraging Modern Technology for Lead Management
There are also a number of modern software tools that can help to boost the effectiveness of your HVAC lead generation process.
CRM systems and lead tracking
An advanced Customer Relationship Management (CRM) tool helps you identify high-quality leads based on customer trends; track leads that you have identified, and nurture leads who are in the consideration phase. CRMs are also very useful for re-engaging previous customers who may need HVAC maintenance, tune-ups or HVAC replacement in the future.
Automated marketing campaigns
Automated marketing can help to multiply your marketing efforts without the human hours. Setting up a drip email campaign or retargeting campaign can help to re-engage leads, while automated social media can build your visibility with prepared content at just the right times of day.
Nurturing and Converting Your HVAC Leads
For an HVAC business, there is a critical window between attaining HVAC leads and securing a customer. HVAC customers are often in a hurry, with an AC or heating problem that (understandably) makes them impatient to secure service. This is why quick response times, effective communication, and efficient service scheduling are important. If you want to convert HVAC leads into happy customers, rapidity is key. You can then transform these leads into loyal customers through a combination of great communication and excellent service. Customers love an efficient, well-organized maintenance service, transparent billing, convenient scheduling, and friendly technicians who are happy to answer any questions they may about their HVACs.
The Power of Referral Programs
Referral programs are extremely effective for home maintenance services like the HVAC industry. This is because, during the awareness phase, customers often discuss their problem with friends and family. If one of your past customers recommends your service from a previous good experience, this is a lead you did not have to market for.
Offering a referral program then rewards your past customers for referrals they would naturally want to give. They will remember the opportunity to get a discounted service, complimentary filter change, or whatever your referral program offers, each time they send a new customer your way.
How Simpro Can Support Your HVAC Lead Generation
Simpro brings the software tools your HVAC team needs to run as efficiently as possible and wow your customers with excellent service. Our solutions include quoting, scheduling, invoicing, and tools to streamline your process at every stage of HVAC business management. Most importantly, you can quickly integrate lead management tools with the Simpro feature suite. More efficient operations ensure customer satisfaction, which will lead to more referrals and repeat business.
Growing Your HVAC Business
Generating HVAC leads is an important part of growing your business. You need online visibility through SEO and social media, community presence through partnerships and events, and the ability to quickly convert leads and attract referrals by impressing your customers with great service. You can also adapt and refine your strategies based on your results and changing market conditions.
Simpro can help you streamline your operations and show new HVAC leads your best performance. To learn more, join the Voice of Trades Webinar and explore what was learned from the Simpro 2023 study of customer engagement for trades businesses.