Understand what details to include in your work order template
Discover the benefits of having an efficient work order template strategy
Download and keep work order templates for your business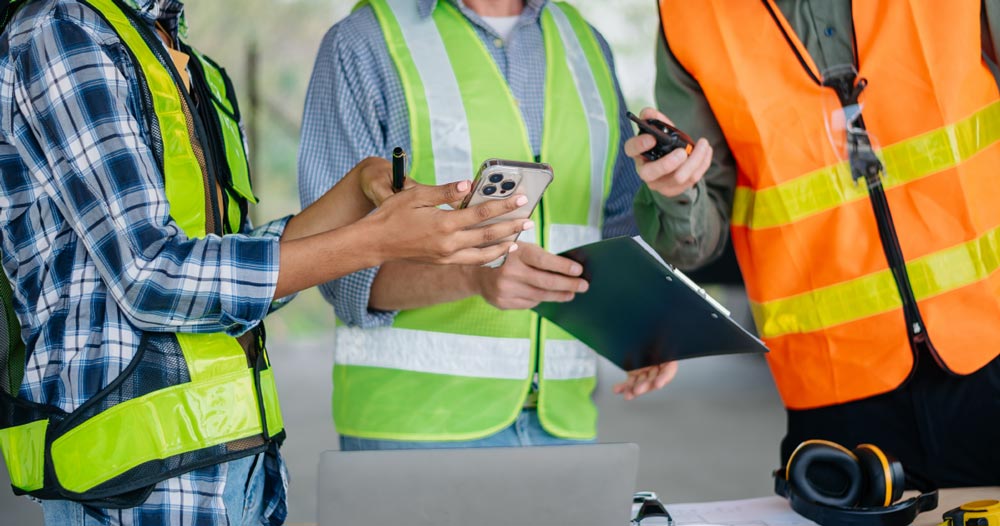 Managing work orders and multiple teams within a field service industry business, can be tough. You need to know what projects are being worked on, who's carrying out the work and everything else that comes with it. But with the right tools and resources in place, you can streamline your workflow and make managing work orders easier than ever. In this blog, we'll discuss key components of a generic work order template, dive deep into the maintenance work order template and construction work order template, discuss how to make the most of an adaptable work order template, and provide some tips on how best to use them to improve customer service. Let's get started!
Key Components of a Generic Work Order Template
A work order template is a convenient and organized way to document work requests, track progress, and communicate with your customers. It's an essential tool for any business that provides a service, as it ensures that work requests are handled in a safe and professional manner. As well as providing all of the relevant information to your customers so they understand the work that's being completed.
There are a number of things, typically, you should always include in a work order. This is things like customer information (name, contact information), descriptions of the requested work, estimated or quoted price for the job, payment terms (if applicable), special instructions or requirements from the customer, and any other details that may be relevant to the job at hand. By that, we mean materials and labor descriptives as well as a sign-off area for both the employee completing the work, and the customer. This ensures that you have complete transparency between your business and the customer, which in turn builds credibility, trust and confidence.
These components can be customized to meet specific needs. For instance, if you provide maintenance services you may want to add additional fields such as job location and estimated duration of job completion. On the other hand, if you provide construction services you may need more detailed descriptions of requested works so that they can be accurately priced by contractors.
A few scenarios to demonstrate where a work order template is common practise, it may be an HVAC technician performing scheduled maintenance, a plumber installing a new toilet or a construction business planning for landscaping work. And each component included in a maintenance work order template is crucial for creating an effective system to manage work orders efficiently. Not only does having all necessary information recorded help streamline processes, but it also helps make sure nothing falls through the cracks - ensuring customers are satisfied with their experience every step of the way.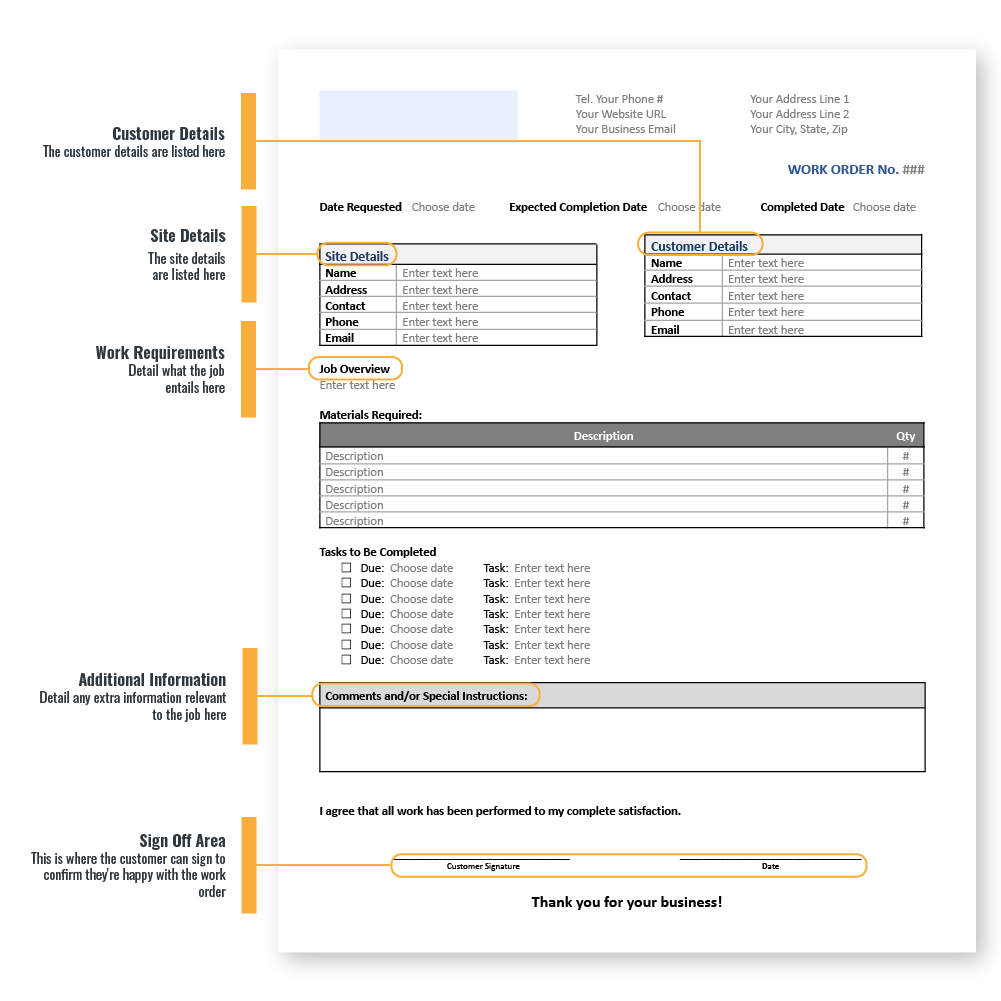 Diving Deep: The Maintenance Work Order Template
Building a well thought out, and concise work order template helps provide employees with the information they need to carry out their work promptly and accurately. Furthermore, having a standardized format also assists in meeting industry regulations and standards.
When developing an outline for this type of document, special attention needs to be paid to what's included in your maintenance work order template. Every job needs specific direction, so it is important to have detailed instructions which allow employees to complete tasks without needing clarification or making assumptions; this helps reduce confusion or mistakes happening. Additionally, space should be allocated for documenting parts used during the process, as well as any other elements necessary for the job - helping track total costs and enable you to increase profitability with future jobs of the same type.
Safety must also be taken into account when constructing a work order template; this includes familiarizing employees with potential hazards related to their task ahead of time. Especially if hazardous materials are involved or if operating heavy machinery poses a risk of injury.
For even more efficient handling of maintenance work, specialized elements can be incorporated into a work order template. This means potential problems can be identified in advance so they don't become expensive fixes, plus timely estimates are given to customers. Having these specialized elements puts you on the right track to completing all projects with time and accuracy on your side. In order to speed up any data collection for your work orders and give customers peace of mind, you should consider including checklists and diagrams. For example, if you know there are certain pieces of information that always need to be captured, make it easy for your customers with a checklist. And lastly, make sure that your work order is straightforward by providing clear directions and labels for each field.
Free Maintenance Work Order Template - Google Doc
Free Maintenance Work Order Template - MS Word
Free Maintenance Work Order Template - Google Sheet
Free Maintenance Work Order Template - MS Excel
Building Strong Foundations: The Construction Work Order Template
A construction work order template is an important component for any construction business, and the layout will be somewhat different to a standard maintenance work order template. It must include every relevant detail, from the contractor's name and address to the scope of the project, services provided, timeline for completion, applicable deadlines, legal documents, materials used and associated costs. This builds an efficient framework where everyone is aware of their responsibilities, as well as when tasks need to be completed by.
There is documentation, along with terms and conditions within a construction work order template that don't apply to other industries. Be sure to include these, as well as the relevant risks of injury to ensure your employees are following the correct safety procedures.
Having a comprehensive construction work order template enhances customer service by keeping customers in the know about what they're paying for, and how long it will take to complete. In turn, this improves the relationship between you and your customers while helping avoid any potential oversights or budget issues. Plus, you're saving time and money while ensuring accuracy is adhered to at all times. Once you've nailed down your construction work order template, you'll benefit from an organized workflow which optimizes efficiency while minimizing downtime between jobs.
Free Construction Work Order Template - Google Doc
Free Construction Work Order Template - Microsoft Word
Free Construction Work Order Template - Google Sheet
Free Construction Work Order Template - Excel
Versatility at Its Best: Adaptable Work Order Templates
On the other side of the coin - there are some projects that will require your work order template to adapt. So it's important that they're versatile. A static work order template may be suitable for some scenarios such as emergency repairs or small one-off services, but they won't work for more complex engagements involving multiple tasks over a longer period. So being able to tweak and amend as necessary, depending on the work involved is essential.
The primary advantage of using an adaptable maintenance work order template is that it allows you to personalize the document for different work, which leads to better customer service and reduced costs. For example, there may be a plumbing job that requires the work to be completed in stages. Although there may be parts of the work that are familiar or routine - there may be additional safety precautions or multiple contractors working at different points along the project. Designing your work order templates in a way that aids customization will give your business a competitive edge, as well as giving you the flexibility to cater to a variety of jobs.
That being said, there are a lot of jobs within the field service industry that involve a "copy and paste" type procedure. Whether it's scheduled maintenance or kitchen sink installations, the important thing to remember is to stay flexible.
Free General Work Order Template - Google Doc
Free General Work Order Template - Microsoft Word
Free General Work Order Template - Google Sheet
Free General Work Order Template - Microsoft Excel
Tips for Making the Most of Your Work Order Template
Whether your business works with construction work order templates or general work orders, there are some useful tips you can follow in order to maximize efficiency. To make sure you're getting the most out of your work order template, bear in mind these tips:
Fill out work orders with clarity: Make sure that your work order template includes all relevant information such as customer information, descriptions of requested services, payment terms, deadlines, materials used etc., so that nothing falls through the cracks or gets forgotten about during completion. Additionally, make sure that each field is clearly labeled so that it's easy to search for specific information within documents later on if needed.
Implement digital solutions for real-time tracking: Having a digital solution makes tracking orders faster and easier than ever before while allowing you to keep an eye on progress in real-time. Additionally, having access to data and reporting features gives you insight into how much time is being spent on various tasks, which can help inform future decisions regarding project timelines and costs.
Train staff to use work orders effectively: It's important that employees are confident with a work order template, and how to capture the desired information. This ensures transparency and honesty throughout the process for both your business and the customer. Plus, it further streamlines processes and maximizes your business efficiency.
Track & monitor progress on each work order: Monitoring progress on each individual work order will help identify potential issues before they become major problems; this allows them to be addressed quickly, saving money in labor hours as well as preventing costly delays. It also helps provide an accurate picture of what needs doing at any point in a project's progress.
Conclusion: The Power of Organized Work Order Management
Organizing and managing work orders is an essential part of running any business, and having a streamlined system in place can have many advantages. First, it can help improve customer service by providing accurate information that is easily retrievable. This also streamlines processes to increase efficiency, and saves you money on additional labor or materials due to any unexpected surprises.
Additionally, with efficient work order management you can make sure that your customers are receiving the best possible service, while also reducing costs and minimizing downtime between jobs. Having a well-structured system in place ensures that everyone understands what needs to be done and nothing is overlooked. This is key to reducing stress levels across all departments, while ensuring compliance with industry standards and regulations.
With the printable work order templates provided in this blog, you can easily create and customize for your business.