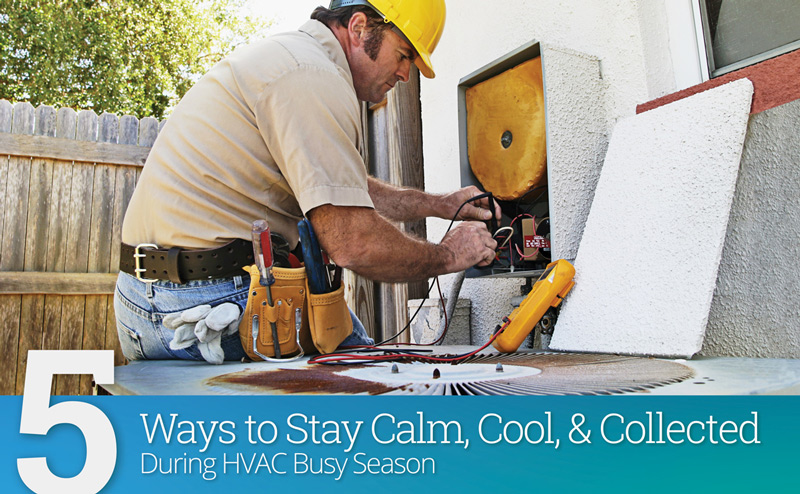 If you're starting to feel the heat from rising temperatures and frantic clients, chances are you're an HVAC business in the midst of the busy season.
This time of year is great for sales and new jobs, but it can also bring added stress as field staff are needed to work longer hours, and the workforce is often limited.
Whether you're excited to conquer the HVAC busy season or starting to feel the pressure, it's important to be organized and plan in advance. You don't want to wait until the phones are ringing like crazy to start getting your operations in order.
Here are five ways you can stay calm and cool during the heat of HVAC busy season:

1. Schedule smarter
When things get busy, even a small mistake can have major consequences.
Overbooking, dispatching field staff to inconvenient locations, or failing to match contractors to a job based on their skillset can all affect the flow of your revenue and productivity. Use scheduling software to ensure that scheduling is efficient and avoid losing billable hours.
2. organize job details
Be sure that both your office and field staff are recording as many job details as possible.
Details that office staff can relay from customers will help to ensure your field staff are prepared, have the proper parts and can complete a job correctly and efficiently.
Additionally, details that your field staff record on or after the job will help others in your business complete similar work in the future. Recording details can be especially helpful in emergency service calls so that your field staff can address and assist panicked customers as quickly as possible.
3. Keep your customers happy
If your customer's A/C system isn't properly functioning, chances are they aren't in the best mood. Keep them happy until your field staff arrive on-site by providing details and notifications about their upcoming service.
Your customers will feel valued if you communicate clearly!
4. Get paid!
So, you've dispatched your field staff to the right place at the right time, your office staff are organized, and your customers are happy. Then comes the best part of conquering busy season — getting paid. Send out those invoices as promptly as possible so you can get paid as soon as possible!
5. Give your team helpful tools
Here's a little bonus: if you work in the commercial HVAC industry , a preventive maintenance checklist can be a huge help. Here are a few useful tasks from a checklist published by Buildings Magazine with preventative maintenance tips for commercial buildings:
Inspect heating and cooling equipment at least twice a year
Clean or replace air filters quarterly at the least and look for signs of mould
Lubricate pump bearings annually and inspect couplings
Clean the condenser coil, if accessible
Inspect for energy efficiency
Cooling towers — take apart and inspect screens and access panels. You'll want to inspect all parts of the tower, clean the starter and cabinet, inspect the wiring, check the motor starter, megger test the motor and log readings, and check the condition of the sump heater and contractor.
Looking for other ways to make HVAC business management easy? During the HVAC busy season and all year round, Simpro's software solutions are designed to help you streamline your workflow from beginning to end. Visit the Simpro website to learn more.