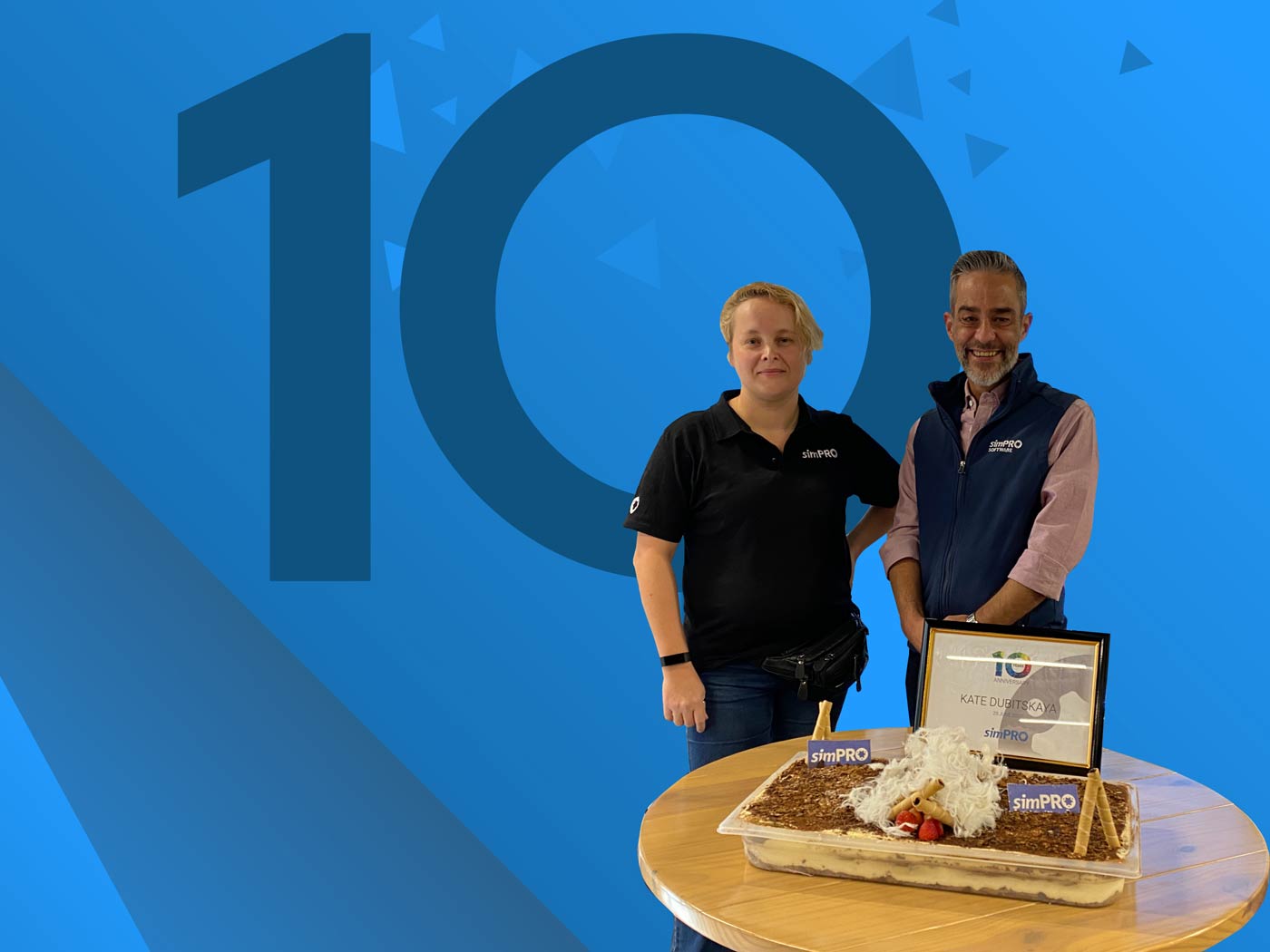 Kate Dubitskaya is one of the driving forces behind developing tailored solutions for Simpro customers who have unique workflows. Kate joined the customizations team 10 years ago and has since worked across some of our biggest projects and processed more than 5,000 customizations requests for our customers. Now, as customizations manager, she continues to lead her team in supporting our customers and their success with Simpro.
We sat down with Kate to chat about her incredible accomplishments and career at Simpro.
Q. Do you have a favorite story from your decade with Simpro?
One of the early challenges for me was to visit an Australian customer to discuss and scope the various changes they wanted to make to Simpro to make the product more suitable for them. As they were a direct sales business, this was quite unusual for us back then. The size of the business and the integrations that they had were also a challenge. But we won their trust, and they stayed with Simpro.
Q. Tell us a little bit about your journey at Simpro.
My journey has been pretty straightforward: I came here to do customizations, and I'm still doing them now. I haven't been through many departments or geographical locations (except for an occasional visit to customer offices for a scoping session). But it has never felt dull. Every day is different; with every new request I learn something new, and it's super exciting and rewarding to be able to help people and make their life better–not necessarily with a software amendment. Sometimes just a piece of advice does the trick.
Throughout these years, in addition to regular customization requests, I have worked on several large project clients including AGL, Masters Home Improvement, Laser, O'Brien Glass, Energetics and Neighbourly in the UK, to name a few. Overall, I believe I've processed over 5,000 requests so far, some of them easy, others super tricky, and everything in between. I thoroughly enjoy creating real solutions for real people. I'm immensely happy I came here 10 years ago and grateful to all the amazing people that I have worked with–both my colleagues and the customers.
I've also enjoyed the challenge to build processes and documentation, establish work standards, set boundaries and share knowledge about custom works across multiple countries and teams. This is what brought me to lead the customization team. Learning and improving is a never-ending process because everything changes and evolves, and we do our best to stay on top of things. No matter how many new features we add to the standard product, customers continue raising new ideas all the time. I'm pretty sure there is enough work to last me another 10 years and never get bored!!
Q. What is one thing that has changed the most during your time here?
The work environment. There is much more structure, consideration and forward-thinking now. There is always room to improve, to grow, and it's been great to witness how the company evolves in terms of its processes, technology, systems and people.
The one thing that has not changed is our approach to customers and customer service–it was the key point 10 years ago and still is now. We do our best to keep customers happy–that's the primary focus; that's what we are here for.
Q. What is the best "work perk" at Simpro?
For me, it's flexibility. Not only Flex4, which we truly enjoy these days, but in general, the ability to talk to your boss and adjust the working hours when needed–as long as the work does not suffer. So the early risers can start early and finish early too, and vice versa. With Flex4, the ability to work from home with fewer distractions, and visit the places that are generally closed on the weekends, is also a great benefit. It greatly contributes to better work-life balance.
Q. 10 years is a great milestone. How do you feel about reaching this anniversary?
It's very exciting. Especially seeing how much the company has grown and feeling that I've been a part of it, that my efforts have helped build it.
Q. What piece of advice has helped you the most over your 10 years?
A negative result is also a result.
Not everything is achievable. Sometimes there can be a failure due to various reasons, some of which are out of your control. Do the best you can in the situation, learn from it and move on.
Interested in furthering your career with Simpro? Visit our careers page for available opportunities.