Accelerate your business' cash flow with simPRO. The simPRO Mobile app now allows field service technicians to invoice and offer a wide variety of payment options onsite. The highly anticipated functionality has been added to the Service module in the simPRO Mobile app, with the update available through the Google Play and the App stores.
How do the new Invoicing and Payment features work?
When completing a job in the simPRO Mobile Service module, users will see new toggle options: Email Invoice and Continue to Payment.
To select both or one of these workflows, technicians simply need to slide the related toggle option to the right. Alternatively, they can also elect to do neither and simply complete the job.
Emailing an invoice
The email recipient list for an invoice will be auto-populated with invoicing contacts that are listed in simPRO. Alternatively, technicians can also choose from every site and customer contact stored in simPRO or type in a new email address if needed.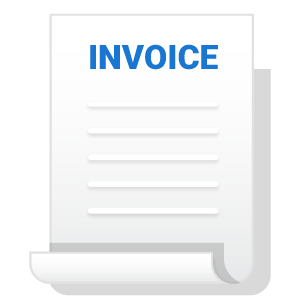 Technicians will have the opportunity to easily review an invoice before it is sent. The screen will outline the subtotal for each cost centre that was used in the job. Unless the cost centre is locked, it can be clicked into for review and updates.
Field technicians will be able to adjust the parts and labour included for each cost centre. Pre-builds, catalogue, labour or service fees can all easily be added. And for the first time ever, field technicians will also be able to add one-off items!
simPRO Mobile also makes it clear when the time being billed and the actual time worked don't match. Technicians can then easily rectify the issue to bill actual time worked with the push of a button.
Once an invoice has been reviewed, the technician can then email it to the customer to pay later, or continue on to accept payment on the spot.
Accepting payment for field service operations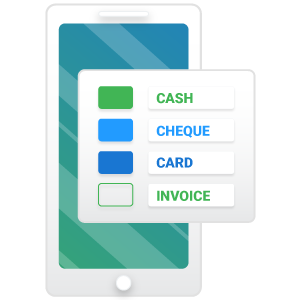 When accepting payments in the field, technicians will be able to access a range of methods from a drop-down menu.
When taking payments with these new features, the full balance owed must be paid. However, the customer can choose to split their payment into smaller portions and spread it across multiple payment methods, if they need to.
Once the full balance has been paid, simPRO Mobile will issue an updated invoice to the contacts that were added on the initial toggle screen, with a balance of $0 displayed
Cash, Cheque, and other payment methods
simPRO caters to a wide range of payment methods including cash, cheques, external EFTPOS facilities. Even Paypal can be included as a payment method!*
Any payment method you offer can be included in the drop-down menu for simPRO Mobile payments.
They simply select the payment method from the drop-down, manually take the payment, then hit the "Record Payment" button.
*Please note simPRO Payments powered by Integrapay is not available in simPRO Mobile.
Getting started with Invoicing and Payments in the field
Interested in using the new simPRO Mobile Invoicing and Payment features? Select from the option most relevant to you below to get started.
My field service staff are already using simPRO Mobile
If your technicians already have simPRO Mobile installed on their mobile devices, simply make sure they have downloaded the latest update. The simPRO Help Guide is a great resource to help your team learn more about using the new features.
To add more simPRO Mobile licences for your team, or to enquire about simPRO's field service management solution, please call us on 0800 100 854 or email sales@simpro.co.nz.
I'm interested in learning more about simPRO Mobile
Click here to explore the full range of features in simPRO Mobile.